My golf course is so bright I gotta wear shades!!! Hey golfers, ever been out on the golf course and been just hammered by the sunshine or squinting to see the flag pin? Well, I have a list of the best sunglasses in golf for you right here!!!
*As an Amazon Associate, I earn from qualifying purchases. This post contains affiliate links, if you click through and make a purchase, I may earn a small commission at no cost to you.  
What are the best lenses for playing golf?
There are a few choices in lenses to wear for playing golf, there are Prizm, Polarized, and your prescription lenses. You also want 100 percent UVA/B/C protection and if possible a full wrap-around lens, this helps keep light out, the wind, and any foreign objects from getting in your eyes or distracting you from your peripheral sight, you don't want any distractions when you are playing your next golf shot.
Prescription lenses
For some of us golfers who have prescription lenses you can go to your eye doctor and have your prescription put into sunglasses for you, this may sound crazy and I have seen this a lot, but take one of your golf clubs into your appointment, crazy right? But, this will help you and your eye doctor to nail your prescription for your glasses.
Prizm Golf lenses
Prizm lenses are excitingly new and give you a fine-tuned, enhancement to textures, colors, and light that work fantastic in any sport your playing. Prizm lenses give you the ability to see a whole lot more out on the golf course or any other sport. In golf, you can see the elevations more clearly and see all the transitions from the fairway, rough, and greens.
Polarized lenses
Polarized is another lens that can be used in golf, polarized block out the horizontal rays, and take glare out so you can see clearly. I would recommend polarized for golf courses with or along with large bodies of water, polarized will eliminate the glare off of the water and let you see your next shot.
Are Prizm lenses better than polarized?
Prizm lenses are new and very exciting for the sports world. Oakley has developed a complete game changer to all sports with their Oakley Prizm lenses. Prizm lenses are better than polarized for some sports and for golf, so Oakley has done something even better by making Prizm Polarized lens!!! Prizm lenses really open everything up to your eyes, clear, crisp, colors, transitions are so POW!!! It's just unbelievable how awesome the Prizm lenses are it's a totally different world with Prizm.
Polarized is great for any sport with water, like water skiing, or any sport around large bodies of water. Polarized works well and sometimes not so well for golf, you will have trouble in shaded areas and you can't see transitions very well either I use polarized lenses and I now know that I can get the Prizm Polarized lenses and have the perfect lenses to play in. Just remember that you need to choose what you like to wear, it's all up to you and your comfort.
What color lens is best for golf?
The best lens color for golf are as follows,
Amber: Lets in more light, you can see your ball really pop out on the ground a perfect lens color for those overcast days out on the golf course.
Brown: Very similar to the amber, both make contrast stand out the most, also you can see and follow your golf ball while it is in the air better, and you can see the difference in distances way better.
Copper or rose copper: The copper or rose copper lens is perfect for the greens, the copper brings out other colors in the green like red and yellows allowing you to read the contours and seeing the breaks in the blades of the grass.
Colors not recommended would be your grays and green color lenses. These colors tend to be more neutral and will not let you see contrast and your ball very well if you have sensitive eyes like myself, I tend to wear the polarized lenses because I have baby blue eyes and the sun tends to bother them in anything different.
Top Ten Sunglasses in Golf
Oakley Flak 2.0 XL Prizm Golf
The Prizm Golf sunglasses on top of the line for serious golfers. Lightweight and durable with the O Matter frames. The HDO lenses give you the most accurate, clear, and sharpest vision. The Unobtanium earsocks and nose pads provide performance and comfort.

Nike Hyper Force Elite
Nike has a great pair of sunglasses in their Hyper Force Elites. 100 percent UV protection, impact, and scratch resistance lenses. The Hyper Force Elite is super lightweight and very comfortable making these sunglasses great for golf and other sports. Tiger Woods has been spotted with the Nike Hyper Force Elites at PGA Tournaments.
Callaway Smart Polarized
Callaway has a great pair of sunglasses in the Callaway Smart Polarized, these sunglasses give you UVA/B/C protection for your eyes. The great part about these sunglasses is they are Bluetooth-enabled, so you can listen to music and take phone calls all while playing your next golf shot. The speakers are built in the frame fo the sunglasses with a single or double earbud, temple touch controls allow for hands-free phone calls and remote music control. The Callaway Smart Polarized sunglasses have a lithium battery with 8-10 hours of use.
Tifosi Veloce
The Tifosi Veloce sunglasses are great for golf, 100 percent UVA and UVB protection, and with their new open-frame and vented lens design keep you cool and won't fog up. The Veloce has 3 lenses you can use, Tifosi's GT (golf/tennis), EC (extreme contrast), and the pre-installed smoke lens. The GT and EC lenses let you see more contrast and depth to aid you when making your next golf shot. Veloce features adjustable nose and ear pads that make comfort and performance to your liking.
Maui Jim Dragons Teeth
Maui Jim Dragons Teeth are another great pair for golf. Dragons Teeth offers PolarizedPlus2 lens technology, UV protection, glare-free vision, color-boosting technology. The Dragons Teeth are incredibly durable and very stylish. The lenses are made with SuperThin Glass material super crips optics.
Costa Del Mar Jose 580P
Costa Del Mar Jose 580P sunglasses made after Jose Wejebe, these sunglasses give you fantastic clarity, and 100 percent UV protection, and 100 percent polarized, blocking out blue and yellow for that fantastic clarity you need out on the golf course. These are a medium size fit, lightweight, durable, and lenses are scratch and impact resistance. Costa Del Mar Jose 580P also has a lifetime guarantee.

Under Armour Octane
Under Armour has the Octane sunglasses with 100 percent UVA/B/C protection. The lenses are multi-reflection coated against smudges and scratches. The Octane sunglasses have the AmourFusion frames with UA AutoGrip self-articulating temples that reduce the squeeze feeling. The Under Armour Octane Sunglasses are extremely lightweight and sturdy.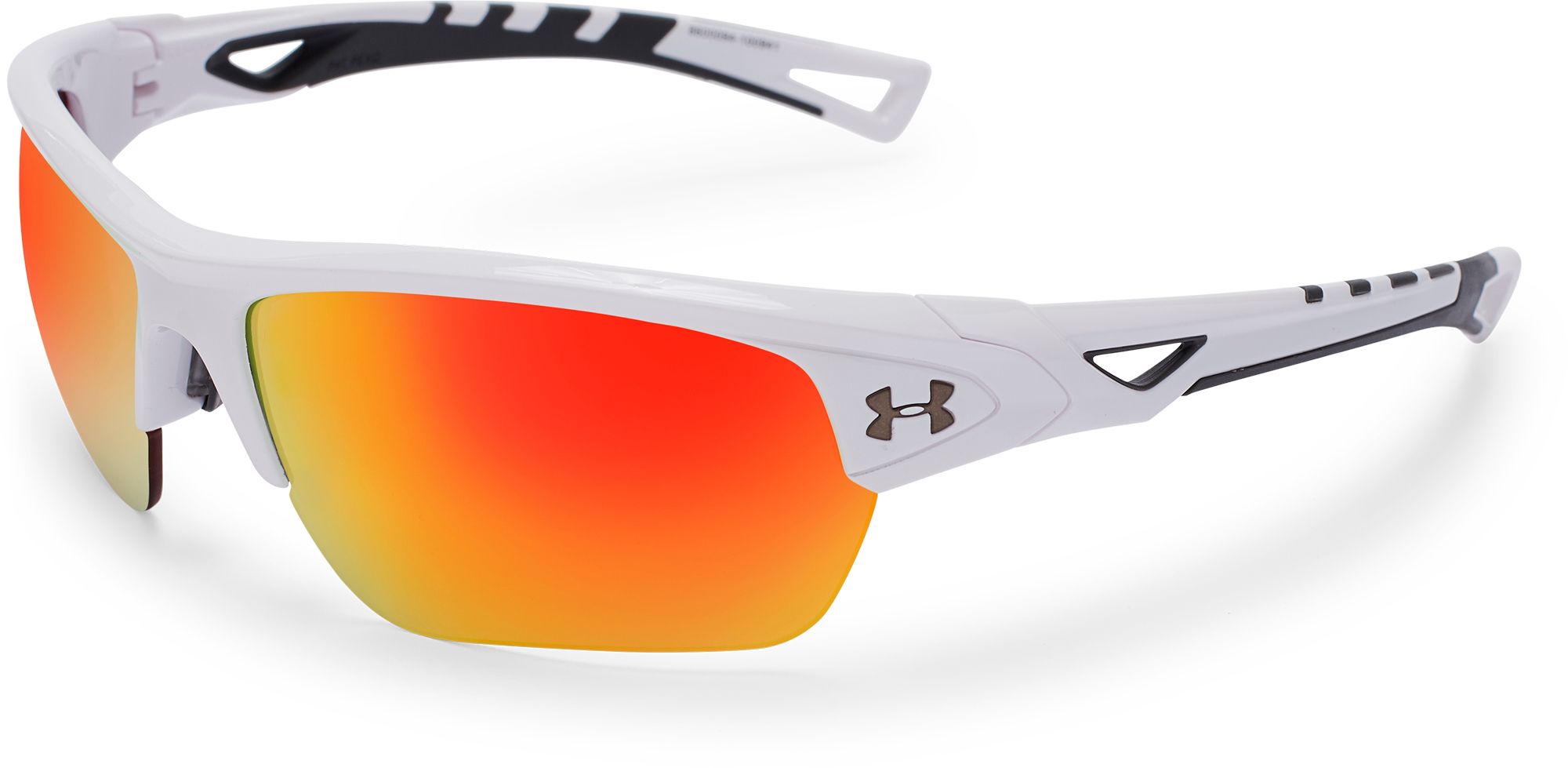 Nike Skylon Ace
Nike Skylon Ace is fantastic for golf and other sports. The Skylon Ace is non-polarized, Nike Max Optics technology gives you precise visual information at all angles of view. The Nike Skylon Ace is a standard-fit sunglasses, shatter-resistance. Nike has designed a great pair of sunglasses in the Skylon Ace.

Torege Polarized Sports
The Torege Polarized Sports sunglasses are a great pair, offing 3 interchangeable lenses so you can use them from early morning and into the evening.  All lenses are 100 percent UV400 coated protection, 100 percent UVA and UVB protection. Torege Polarized Sports sunglasses are lightweight, durable, and very stylish. Torege Polarized Sport sunglasses offer a lifetime breakage warranty on the frames, you can't beat that for the price.
Duduma Polarized Sports
Duduma designed these sunglasses for almost every sport. 100 percent UV400 coated protection, 100 percent UVA, UVB protection. Duduma offers 9 different frame and lens combinations, so you can get whichever ones to fit your style. Duduma Polarized Sports sunglasses are super clear, durable, great looking, super light, and very stylish for any golfer or sports enthusiast.
Conclusion
Well here is my top ten list for best sunglasses in golf, we covered a lot of different manufacturers, Prizm, polarized, and multi-lens brands. I made this top ten so that golfers like myself can buy the best golf sunglasses out on the market today and to help all us golfers to protect our eyes from the sun and to be able to see and read our golf courses better to take more strokes off of our golf game and enjoy our golf courses even more.
LEAVE YOUR QUESTIONS AND COMMENTS BELOW