There are some really great kids golf balls that I wanted to share with you along with a few tips. I hope these recommendations help you decide what golf balls you should have your kids or juniors golfers playing out on the course. A lot of it has to do with the person needing golf balls and their swing speed. So here are some ideas for you on which golf balls you may want your kids or junior golfers to use.
*As an Amazon Associate, I earn from qualifying purchases. This post contains affiliate links, if you click through and make a purchase, I may earn a small commission at no cost to you.
What is the Best Golf Ball For Kids?
Great question and I have some suggestions for you. For kids 12 and younger I recommend the Lynx Ai Hi-Fly golf balls. The Ai is designed to have higher spin rates for lower speed swings which means the golf ball will go higher and further giving your junior more confidence and fun. Lynx also makes golf clubs for different stages of heights to go with the Ai golf ball. My other suggestion for kids 12 and older the Callaway Golf Chrome Soft Truvis golf ball. The golf balls look like mini soccer balls and because of the look, the golf ball appears bigger so your kid thinks they have a much bigger target to hit and the golf balls are much easier to find out on the golf course.
How To Find The Right Golf Ball
I have done some research on this question for a while now, and I have some ideas about what you need to do to find the right golf ball or golf balls for your kids and possibly for yourself too.
When I started playing golf, I didn't realize how damn expensive golf balls were. I said to myself, "well, I won't be playing this for long". I didn't know anything about golf balls except that you put it on a tee and hit it with your club.
I would pick up golf balls that were just laying around my home town, or snag a 5-gallon bucket of golf balls at a garage sale you know like $5 for 100 golf balls. That bucket would have a ton of all kinds of golf balls.
Then I found out about men's and ladies' nights at my local golf course. I would go play the day after and holy cow, I found all kinds of top brand golf balls that players lost or didn't even try to find.
I would gather all my golf balls by brand and head out to the fairgrounds and hack away. I found out which ones fell like hitting a rock, ones that you could barely feel when you hit them, which ones sliced/hooked bad and ones that made me look like I had been playing for years. I highly recommend using some used or cheap golf balls until you get the feel of them all.
---
---
Swing Speeds and Compression Ratings
For kids, I would suggest any golf ball under 60-65 compression rating, why? Well, I don't know of any kids that have a swing speed of or above 85 m.p.h. Now there may be older juniors who are at or above that speed and I will talk about golf balls for them coming up.
If you don't know your swing speed you can always purchase a launch monitor. There are some really good ones out there like the SkyTrac Launch Monitor, Swing Caddie and the less expensive FlightScope Mevo that can tell you everything you need, or just do what I did, I went and played on one of the best indoor golf simulators, the SkyTrac SwingBay simulator and it told me everything and I mean everything that I wanted to know.
Not many kids or juniors (unless they are advanced) need to play with a pro golf ball or the most expensive golf ball either, those golf balls don't come cheap and if you are losing golf balls you won't have any $$$ left for green fees soon.
Low-compression golf balls benefit the slower swing speeds by making the golf ball easier to compress on impact, which then gives you more distance and less spin so shots are farther and straighter, that's exactly what kids need. This will help with their confidence and make the game more fun to play.
Selecting golf balls for kids or yourself all depends on how fast you swing that club. Golf balls don't care if you are a boy, a girl, teenager, 20,30,40,50, or 80. Your speed picks your golf ball.
Low-compression golf balls are designed for slower swing speeds if you are over 85 m.p.h.  and use the low-compression ball you will hit it with less distance and have an inconsistent ball flight. Why? Because your swing speed is too fast you are over compressing the golf ball, In that case, you will need a higher compression golf ball to compensate for your swing speed.
I hope this little bit of knowledge helps some of you out there with selecting a golf ball for your kids or even yourself. I know it has helped me choose the right golf ball, even though I do change it up sometimes.
---

---
Junior Golf Balls
As I mentioned above, selecting a golf ball is done with your swing speed. With a swing of 85 m.p.h. and under you will want a low compression golf ball, it benefits your slower swing speed. If you have a swing of 85 m.p.h. and over, you are going to need a higher compression golf ball in order to take advantage of your swing speed.
Here are some golf balls that I recommend for juniors. The first two are your top golf balls, pros are playing these balls, so if they are over the 85 m.p.h. swing speed, they should try these out.
Titleist ProV1
The #1 golf ball on worldwide tours and the #1 ball in golf. The Titleist Pro V1 is the top dog golf balls.
It has the best combination of distance, durability,  great feel, and spin. This golf ball will do what you want when you want it, as long as you hit it right.
This golf ball is designed for swing speeds in excess of 105 m.p.h. and has a compression rating of 90. Best for older junior golfers needing a great golf ball.
TaylorMade TP5, TP5X
TaylorMade has designed a great golf ball with the TP5 and TP5X. They are both great with distance, with high spin and a soft feel. The TP5 is designed for swing speeds of 90 m.p.h. or higher. The TP5 has a compression rating of 85 and the TP5X has a compression rating of 97. Another great golf ball for junior golfers looking for more performance.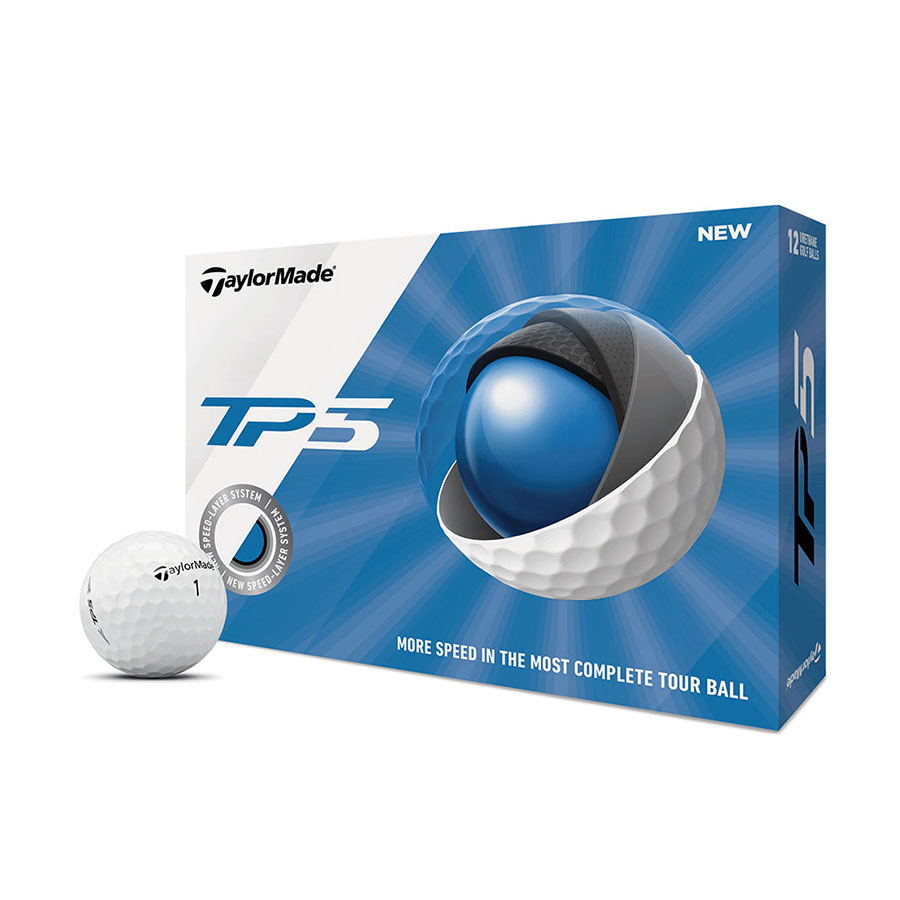 Bridgestone Tour B X, XS
The Tour B X has been used by swing speeds of 85 m.p.h. to 120+ m.p.h. with a compression rating of 85.
All of Bridgestones Tour B golf balls perform the same for any swing speed. Their R&D has tested these golf balls with all types of golfers. Their golf balls are going to be probably the best in the market.
With 20 years of research and testing with the world's greatest golfer, Tiger Woods Bridgestone Tour B golf balls will improve your game.
I think this is the one everyone should be using, they designed this golf ball to fit every player.
Callaway SuperSoft
The SuperSoft is designed for swing speeds of 95 m.p.h. and under with a compression rating of 38. This is Callaway's softest golf ball ever. Callaway says when hitting this golf ball it feels like your hitting a pillow.
Now, I wouldn't recommend this for anything faster than 95 m.p.h., because anything faster will over-compress the golf ball and you will lose distance.
Wilson Ultra 500
Wilson has this for beginners that are starting to get their swing speeds faster, the Ultra 500 provides long-lasting durability, the high energy core with the unique dimple pattern gives this golf ball an optimal flight trajectory and tour like distance making your kids feel like they are being like the pros.
---
New vs Used
I am not a pro golfer, I don't play like one either and I can't afford pro golf balls. But if you can spend the $$$ on them I would try them out. Like I said, get the ones that match your swing speed and play the heck out of them. Me, I will pick up golf balls in that jar at the clubhouse or buy some cheap ones, that won't hurt the wallet or me nearly as bad as losing a ProV1, TP5, or any other expensive golf balls.
Kids can benefit from used balls because they are going to lose them either in the tall rough, or the ponds. It's a given, this will happen until they really get going, as they get older and their play is considerably better. I would suggest that kids play with used or cheap golf balls, this way they can get the feel of different ones, and when their ready, they might already know which golf ball suits them the best.
Practice and Theme Golf Balls for Kids
Here are some awesome foam practice golf balls for your kids to use. They are safe for everyone around, also for windows and whatever else can break around your home.
Callaway HX Practice Golf Balls
These are perfect to get your kids to practice around the backyard.
They are foam golf balls just like the real thing.
They are multicolor, safe for windows, and anything breakable.
The practice golf balls come in a net bag for storage.
Sci-Core Real Feel Indoor/Outdoor Practice Balls
Golf Digest featured these as the best practice golf balls on the market.
They give a nice pop when you hit them with your woods and irons.
They are safe for indoors and outdoors and have a non-marking finish.
You can also get the Swing Coach Club to go along with these practice golf balls.
Volvik Vivid Marvel Golf Balls
Do your kids love superheroes? Volvik has Captain America, Iron Man, Spiderman, Black Panther, The Hulk, and Thor golf balls. These golf balls come in a four-pack and with a hat clip ball marker.
The Volvik is designed for swing speeds of 70-90 m.p.h. with a compression rating of 75. They are colorful and look fantastic. Any kid would enjoy these golf balls, and they'd really make a statement out on the course.
Lynx Golf Hi-Fly AI Golf Ball
I just read about this new golf ball and this is the golf ball that I think would be the best for kids starting out. When looking at this golf ball nothing special stands out. It's just a plain old golf ball. Then you grab it and WTH?!! This golf ball wants to float away like bubbles, crazy right? Guess what? Lynx Golf designed this awesome golf ball to do just that. You're probably saying,  WHAT?!!
Yes, now this golf ball DOES NOT CONFORM TO USGA RULES, but that doesn't matter. This is a starter golf ball made to be played by kids and juniors with swing speeds under or at 70 m.p.h.
The AI golf ball is smaller and lighter. It's designed to create more spin in order to get the golf ball up in the air. This design eliminates the golf ball from just diving to the ground even when you crush a great shot, unlike a regular golf ball.
Lynx Golf has made a TRANSITION GOLF BALL, the better your game gets the sooner you can move up to the regular golf balls. They are also making a six color-coded junior golf club sets with the AI golf ball included. Cool, right?
---
Conclusion
So that's my opinion on how to select kids' golf balls by using their swing speed. I hope I gave you some information that you can use on deciding what golf balls to try and play with. There are some really good choices here and I hope these golf balls will keep your kids playing this wonderful game called golf.
Hold up a minute, everyone I just read another article about low and high compression golf balls. After reading it, it made me wonder more about what I posted. So I am just going to say this, I gave you my opinion on what to try with kids and juniors, but what it really comes down to is, it's what makes your kids or your juniors feel comfortable and is pleasing to them and their game. They are the ones hitting, and playing the golf balls. So go get your kids and go hit some golf balls.
LEAVE YOUR QUESTIONS AND COMMENTS BELOW