FORE!!! CRASH!!! The first word and sound that I heard the first time I played golf with my grandpa. I was six years old and I probably should not have been using my grandpas' clubs. With that said, I should have had some kids golf club sets to try out. There are some really great affordable golf club sets for kids. But before you go out and purchase a set, we should probably first find out if your kids even want to play golf.
There are a few telling signs that they may be interested in. So let's jump in and find out if you might be teaching the next Jack Nicklaus or Tiger Woods!!!
*As an Amazon Associate, I earn from qualifying purchases. This post contains affiliate links, if you click through and make a purchase, I may earn a small commission at no cost to you. 
Is Your Child Ready to Play Golf?
Ok, so I'm not a golf professional or a coach, however, I have played a lot of golf with many different aged players. From a six-year-old starting out to middle school and high school-aged kids. I've also played against golfers aged 20 to 84 and received a tremendous amount of knowledge from all of them.
The first and most important thing I learned was to make sure the kids are having FUN. Young kid's attention spans are very short and they are distracted easily.
If they're not having fun they will definitely not want to continue. Be sure they are interested. Do they practice swings in the yard? Have they mentioned the game? Are they watching golf on t.v.?
Always have RESPECT for the game, equipment, and other players. Unfortunately, I have played with some very disrespectful players in my time and I know kids watch and mimic everything we do, so be sure to explain the rules and teach your kids golf etiquette, show them the importance of respecting the equipment and the game.
I also learned how important it is to ENCOURAGE, ENCOURAGE, ENCOURAGE. I've watched experienced golfers on the course that were very encouraging when playing with the younger golfers. It didn't matter if it was a swing and a miss or a splash in the pond, they never highlighted the bad. So I think encouragement is key to having fun and keeping kids interested.
In My Experience…
My kids are old enough now that I have been starting to play again and they all want to go to the course with me. So I decided to see if they really wanted to learn or just horse around.
So I borrowed some kids' clubs from the clubhouse and took them to the range. There I found out really quick like that my boys (ages 4 and 5) were not mature enough to learn. They got the putters in their hands and they didn't do practice strokes they decided it was pirate sword fighting time.
My girls' ages 9 and 12 seemed pretty interested and more mature so I tried to show them how to stand, and hold a club and take some practice swings. The only thing is both my girls are left-handed and I can not swing golf clubs lefty. But I noticed they were having some fun and laughing so I kept encouraging them to keep trying. They really started getting the hang of it after about a month.
So in my opinion, if your kids are asking about golf and wanting to go practice or you catch them watching golf on TV, my boys started watching and they asked: "When are we going to go back to the golf course?" They practice golf swings in the yard using whatever they can get their hands on and they play golfing video games. If your kids are showing any of these signs, they may be ready to play golf and grow to respect the game. If they are enjoying the outside and are with their family and friends I believe that your kids may truly enjoy the game.
What I do with my kids is to encourage them to have fun, meet new friends, and be respectful of the game and others. Getting to spend a Saturday or Sunday on the golf course with my kids is a lot of fun and we all get in some good exercise without even realizing it.
---
Rory 4+ Pink Kids Golf Club Set


---
Golf Club Sets for 3-5-year-olds
Here is my list of some really great training golf club sets for younger kids. These golf sets teach the proper golf club grip, and some of these sets are adjustable, so the golf clubs can adjust with your kids getting taller. These golf club sets are perfect for younger golfers as they train your young golfer right out of the box.
Precise XD-J Complete Golf Club Set
Precise has this fantastic complete golf club set for kids. What I really like about this golf club set is that Precise has made these in color code for your juniors ages. For boys, there is an orange set for ages 3-5, red set for ages 6-8, and blue for ages 9-12. For your girl golfer, there are 3 golf club sets all pink for ages 3-5, 6-8, 9-12. There is also another awesome advantage to these boys and girls sets, you can get them in either right or left-handed!!!
Using lightweight club heads with extra loft allows your kids to hit the golf ball higher in the air. Each color-coded golf club sets comes with a junior hybrid golf club, way easier to hit than a long iron. All the golf clubs in these sets have the Ultralite Junior Flex Graphite Shafts which are 25 percent lighter than any other junior golf club set. You also get the lightweight Precise Junior golf stand bag with dual straps just like kids backpacks so they can be carried easily out on the golf course. You get the total package with Precise XD-J complete golf club set.
Franklin Adjust-A-Sport Golf Club Set
Franklin makes a pretty cool kids golf club set they call it their Adjust-A-Sport Technology.
Their clubs are completely customizable. The adjustment on their driver and iron is 25″ to 35″ in length and the putter is from 20″ to 30″.
They have a wonderful efficient grip that allows for correct grip and teaching the proper swing. This set also comes with 3 golf tees 2 golf balls and a carry bag.
Top-Flite Golf Club Set
Top-Flite has a great golf club set made for kids 5 and under or 45″ and shorter. This set comes with a 310cc driver Ti composite that has this low/back design center of gravity for more accuracy and distance. This set also has a 9 iron with a wide stainless steel sole which is has a perimeter placement of weight for that unbelievable forgiveness on errant shots.
It has mallet putter, cutouts for alignment which helps with aim and consistent stroke. This set has an awesome stand bag with adjustable dual carry straps (fantastic in my opinion) 4 pockets for all your gear needed on the links and the best part, this bag only weighs 2.4 lbs!!!
---
Ben Hogan Golf Hats

---
Golf Club Sets for 5-9-year-olds
Now that your kids are older and taller, these golf club sets are the real thing. These golf club sets are made by the top golf club manufacturers of today, and their performance really makes your young golfer start to feel like a golfer.
Cobra King Golf Club Set
This set made by Cobra King will definitely inspire confidence in ages 5-8ish or I should say a height of 46″-52″.
This club set includes a 375cc driver with a high launch and exceptional forgiveness. A hybrid club which helps get the ball high in the air easily. The 7,9 irons with an SW have the perimeter-weighted system which adds accuracy and stability with every shot.
This fantastic set comes also with a blade putter. All these clubs come in a lightweight, tough stand bag with the dual carry straps and 6 pockets. The set has their junior flex shafts and junior grips for a better feel on every shot.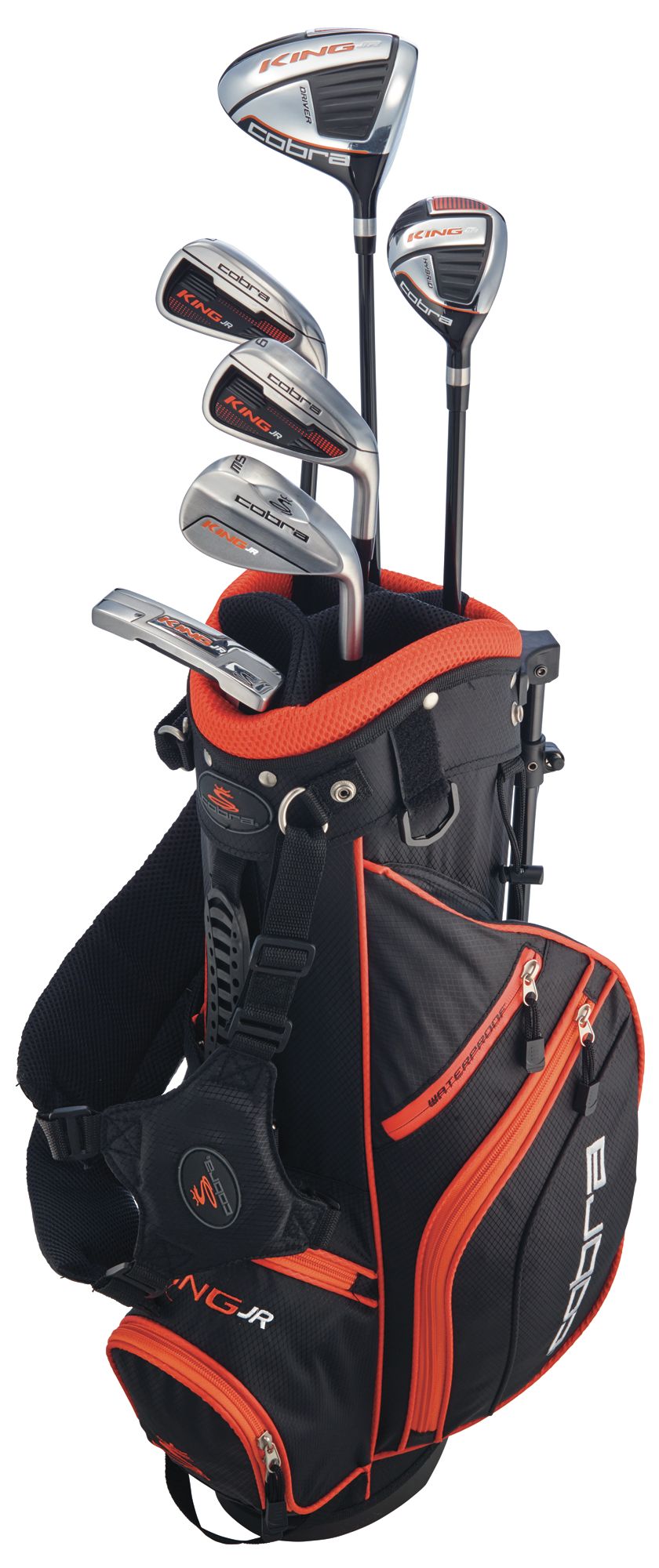 Callaway XJ2 Golf Club Set
Callaway XJ2 Golf Club Set is great for kids 47″-53″ tall. The XJ2 uses ultra-light club weighting with graphite shafts, which in return helps your kids play their best. The oversized driver is titanium with a huge club face which will give your kid the most confidence off the tee. The fairway wood is very sleek and has a low profile to launch it high. These irons are weighted for forgiveness and more control.
This set has an Odyssey mid-mallet putter with nice alignment lines for better accuracy. The stand bag is awesome!!! Tons of pockets, full-length dividers, with 5-way top. Padded dual carry straps and straps on the trunk of the bag for maneuverability. An automatic stand feature with non-slip foot pads for ultimate bag security anywhere on the course.
Top-Flite Girls Golf Club Set
I found this fantastic set from Top-Flite that is for girls 53″ tall. This set has 6 clubs, a stand bag, and 2 headcovers.
The driver is 360cc Ti composite with the low/back CG for lots of forgiveness and distance. A hybrid club which takes the place of the long irons, it provides the accuracy of those irons and has the forgiveness of a fairway wood.
The 7 and 9 irons are made of stainless steel with a wide sole and perimeter weight placement for more forgiveness on shots. The SW has a low center of gravity feature.
The putter is mallet-style also with the alignment cutouts. Graphite shafts on all clubs except the putter. The stand bag has 4 pockets for everything you need out golfing. Padded dual straps that are adjustable and the bag only weight 2.6 lbs!!!
---
Rory 4+ Blue Kids Golf Club Set


---
Golf Club Sets for Juniors
These golf club sets are designed to get your junior golfer to find work their golf skills and start making golf shots. These golf club sets will allow your juniors to become more confident, comfortable and to improve their golf game
Tour Edge Junior Hot Launch HL-J
This Tour Edge Junior Hot Launch HL-J is a complete set for kids ages 11-14 or 64″-67″ tall. The clubs in this set are Driver 350cc, Fairway wood, Sleek hybrid, 7-8i-9-Pi-SW, and putter.
This set is designed to help your kids hit the ball higher and longer. The set has an awesome 350cc driver with a Higher MOI (Moment Of Inertia) in case you didn't know what MOI was. This adds more forgiveness as well as longer and higher drives off the tee. The set comes with a fairway wood and hybrid with compact profiles and both have the wide soles and the low CG for better performance.
This club set has Oversize irons which I love, they are perimeter weighted for great playability. A mallet putter with lots of alignment marks to help with lining up and consistency. The bag is a lightweight stand bag and has head covers as well.
Top-Flight Kids' 2019 Gamer X Varsity
The Top-Flight Kids' 2019 Gamer X Varsity 14-piece set is for kids 60″ and above.
Clubs included are Driver 440cc Titanium, 3 Wood low profile, Sleek 5 Hybrid, 6-7-8-9 Irons, PW, SW, Putter.
This golf club set is really going to help your junior golfer to perfect their golf swing and really nail down their game.
This complete set is great looking and comes with 3 headcovers for your woods. The stand golf bag is lightweight with dual padded carry straps for easy toting on the golf course.

Aspire XD1 Complete Golf Club Set
Aspire has this perfect complete golf club set for ages 13-16 and heights of 5′-1″ to 5′-6″.  This golf club set includes a driver, fairway, and hybrid, 7-PW, putter and a stand bag.  All woods have 100 percent graphite shafts and the irons have true temper steel shafts. The putter is a mallet-style with an all-black finish so no sun glare when lining up your putts. The golf club set also includes 3 headcovers for your woods. The golf club set comes in a matching deluxe dual strap stand golf bag which lightweight and easily carried like your school backpack. Aspire designed this complete golf club set with the teenager golfer swing in mind, from the grips to the shafts and finally down to the golf club heads, this is a great golf club set from Aspire, and this golf club set will indeed make your junior golfer very competitive out on the golf course.
---
TaylorMade Phenom Golf Club Set


---
Conclusion
So I have talked to you about how to find out if your kids are ready and wanting to play this centuries-old game called Golf. I have given you some golf club set ideas to start your kids out playing this game I love. We worked our way from 3-5 years old up to juniors. I hope I have helped you out with anything you were wondering about or where to find kids golf club sets for your kids. I hope to see and meet or even play a round of golf with you and your kids one day.
LEAVE YOUR QUESTIONS AND COMMENTS BELOW