Tired of carrying around your golf clubs to play around of golf? Are golf cart fees getting too expensive? Did your doctor tell you or your wife, that you need more exercise? Push golf carts is the answer to all of these questions. Get all the exercise you need without the back-breaking lugging around your golf clubs during your round of golf. Here is my list of push golf carts that any golfer would love to have out on the golf course.
*As an Amazon Associate, I earn from qualifying purchases. This post contains affiliate links, if you click through and make a purchase, I may earn a small commission at no cost to you.
Which is Better Push or Pull Golf Cart?
Scientifically it makes the most sense to use a push golf cart for your golf clubs then to pull them. Why do you ask? Well, the strain on your shoulders and back from pulling your golf clubs will wear you out and your shoulders and your back are the biggest areas you use in your golf swing. The more tired and used the worst your swing will be and your golf game goes to hell. That's why a push golf cart is better to use than a pull golf cart.
Best Push or Pull Golf Carts
Here is my list of some of the best push or pull golf carts if you prefer, that will have you enjoying golf without the back pain of carrying your golf club bags on a round of golf.
Sun Mountain Speed Cart GX Push Cart
This is a great push cart for golfers coming in under eighteen pounds this three-wheel golf cart has been designed to maximize on course convenience for the golfer and can handle any terrain you throw at it. Sun Mountain redesigned the handle which now allows easy access to your gear storage. With the three-wheel design, it enhances maneuverability and security on all types of turf and folds up in two steps. Sun Mountain also has a four-wheel push cart the Sun Mountain Pathfinder 4 push golf cart.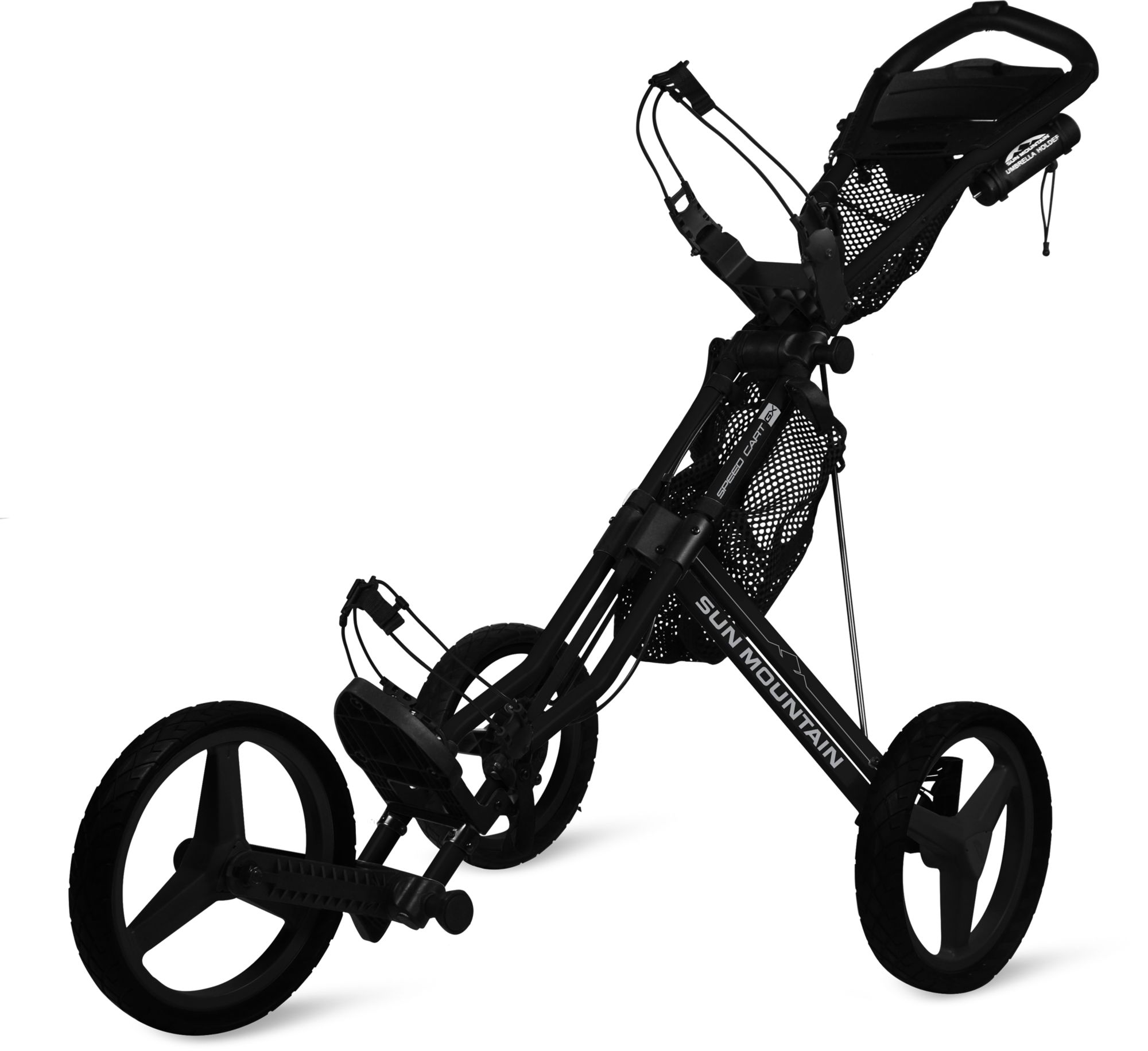 Bag Boy Nitron Auto- Open Push Cart
The Bag Boy Nitron Auto Open push cart is lightweight and gives you effortless navigation throughout the golf course. Over-sized wheels for easy rolling on the turf. The Nitron Piston Technology provides nitrogen power to assist with the easy opening and closing of the push cart. You will love the integrated umbrella storage with a loop and storage notch. Handle-Mounted parking brake for easy access. Extra-large accessories bag under the scorecard console which has a beverage and mobile device storage along with golf ball storage. This is a great push cart for any golfer looking for a quick and easy operated push cart.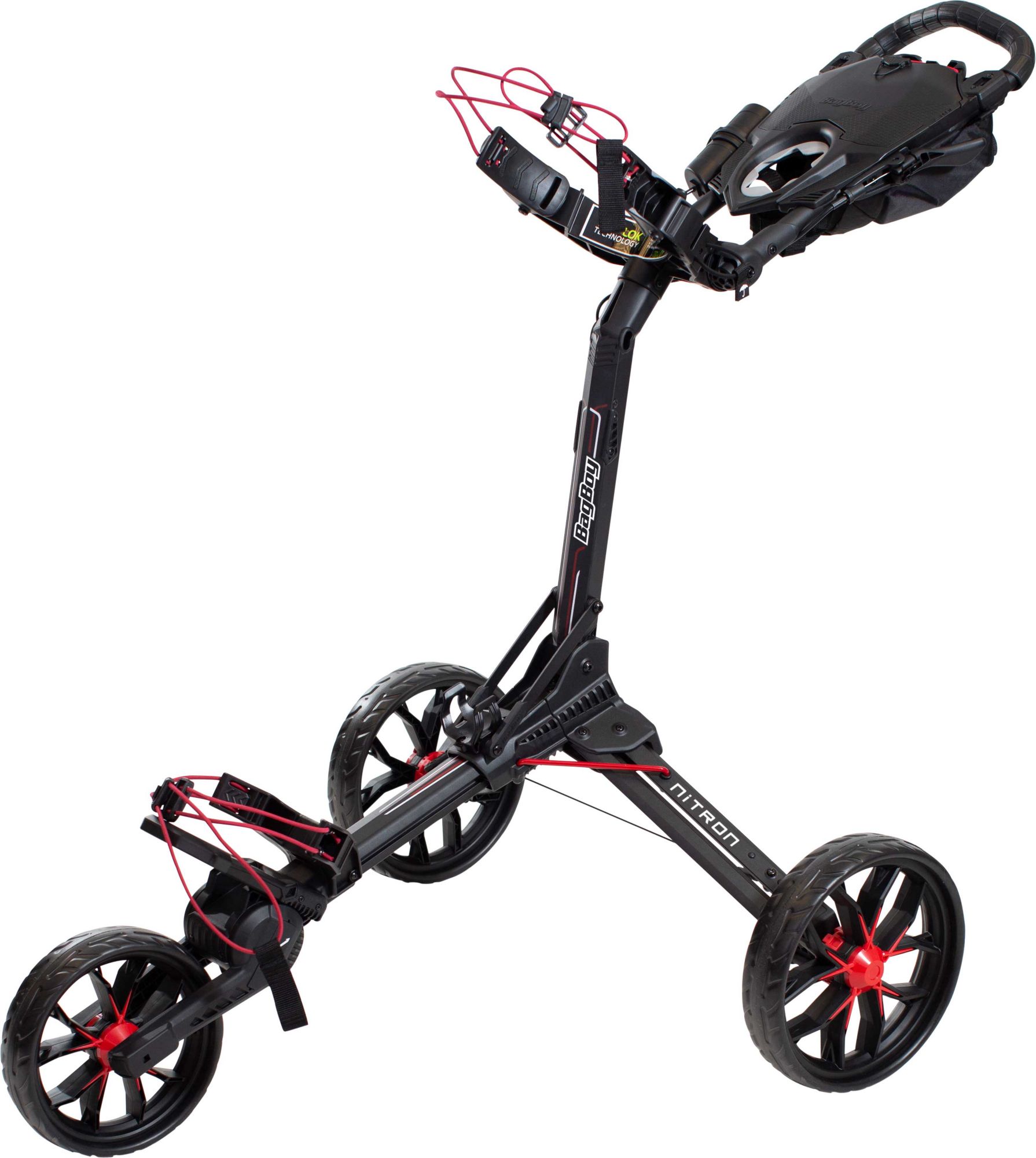 CaddyTek Explorer V8 4 Wheel Push Cart
CaddyTek has a great pushcart for the everyday golfer. The Explorer has a strong aluminum frame with EVA maintenance-free wheels. The front wheels can be adjusted to fit any golf bag you have. CaddyTek patented simple two latch mechanism folds the cart to a compact size in two simple steps. The push cart has a foot brake and a patented miscellaneous basket with a built-in cooler for all your beer or other drinks. The scorecard holder intergraded with a storage compartment for your smartphone or GPS also has a beverage holder (a hold my beer) and mesh net for other accessories. The Explorer also has an umbrella holder and adjustable handle for multiple pushing positions to fit any golfer. CaddyTek has a fantastic push cart that fits any golfer including myself that will make a round of golf more fun and convenient with all of our necessities.
Tour Trek 2018 One-Click 4-Wheel Push Cart
Look good and navigate the golf course in style with the Tour Trek 2018 One-Click 4-wheel push cart. This push cart has a sturdy frame with high strength support cables. The deluxe scorecard holder has a pencil holder, beverage holder on a pivot no more spilled drinks, golf tee holder, with an internal compartment for golf balls and other accessories. The four over-sized wheels let you roll with ease over any terrain and a foot brake to keep your push cart where you want it. Push-button one-step collapsibility that feels effortless. Upper and lower brackets have bungee cords to hold your golf bag secure. This is a wonderful push cart and you will enjoy it on the golf course.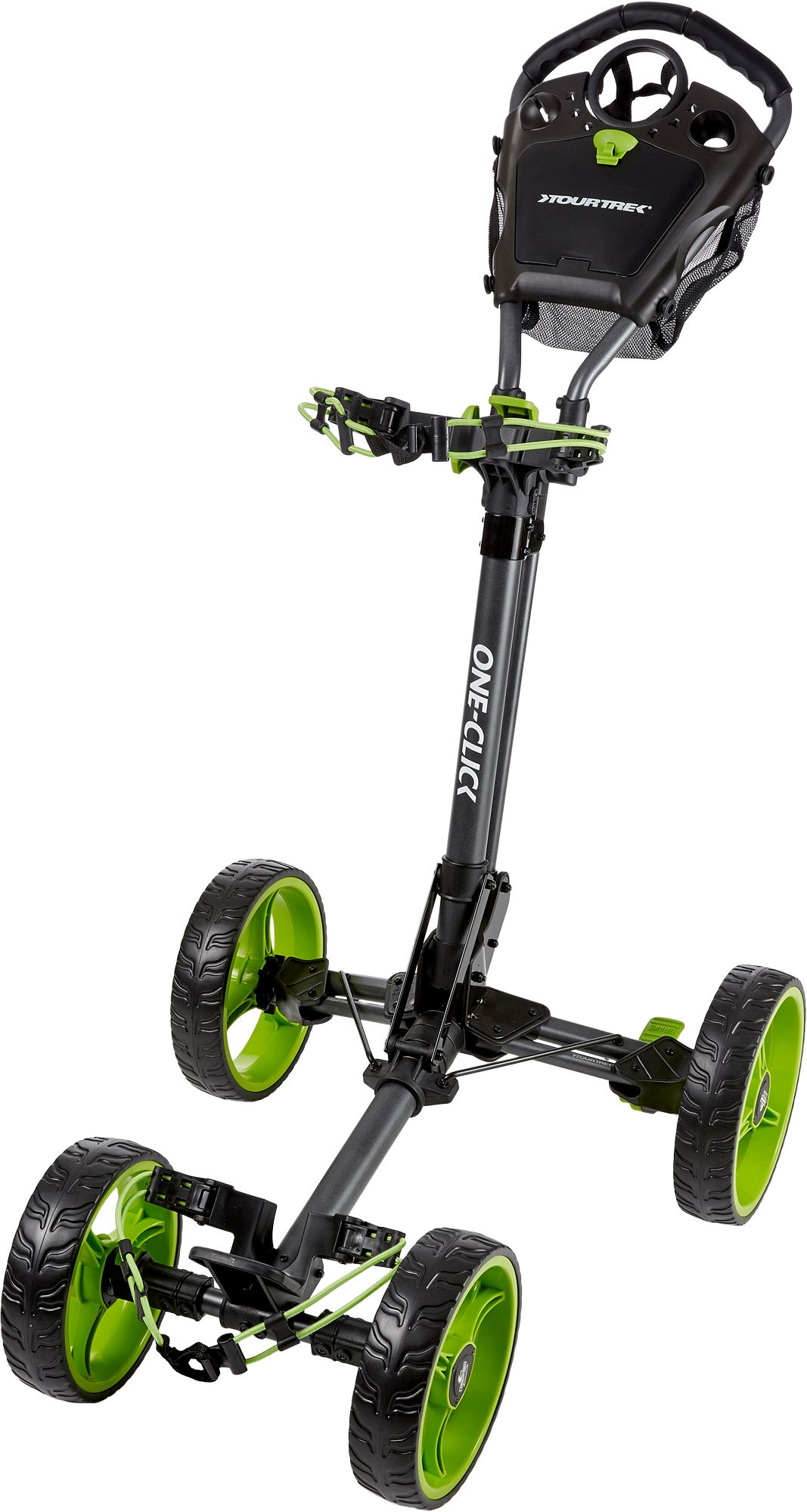 Big Max Autofold FF Push Cart
Enjoy performance style out on the golf course with a Big Max Autofold FF golf push cart. The straight axle design gives you more stability and maneuverability out on the golf course. The Big Max is designed to compactly fold and unfold with a single hand. The Ultra-fast Flat Fold (FF) Technology gives you a compact storage in a matter of seconds. The Quik Fix and Quick Lok elements on this push golf cart give you a ton of storage options. The dual adjustable bag brackets let you set push cart up for a stand bag or cart bag in seconds. The foot brake is located by the rear wheels and provides security on any terrain. This push cart is a fantastic piece of golf equipment and will look great out on the golf course.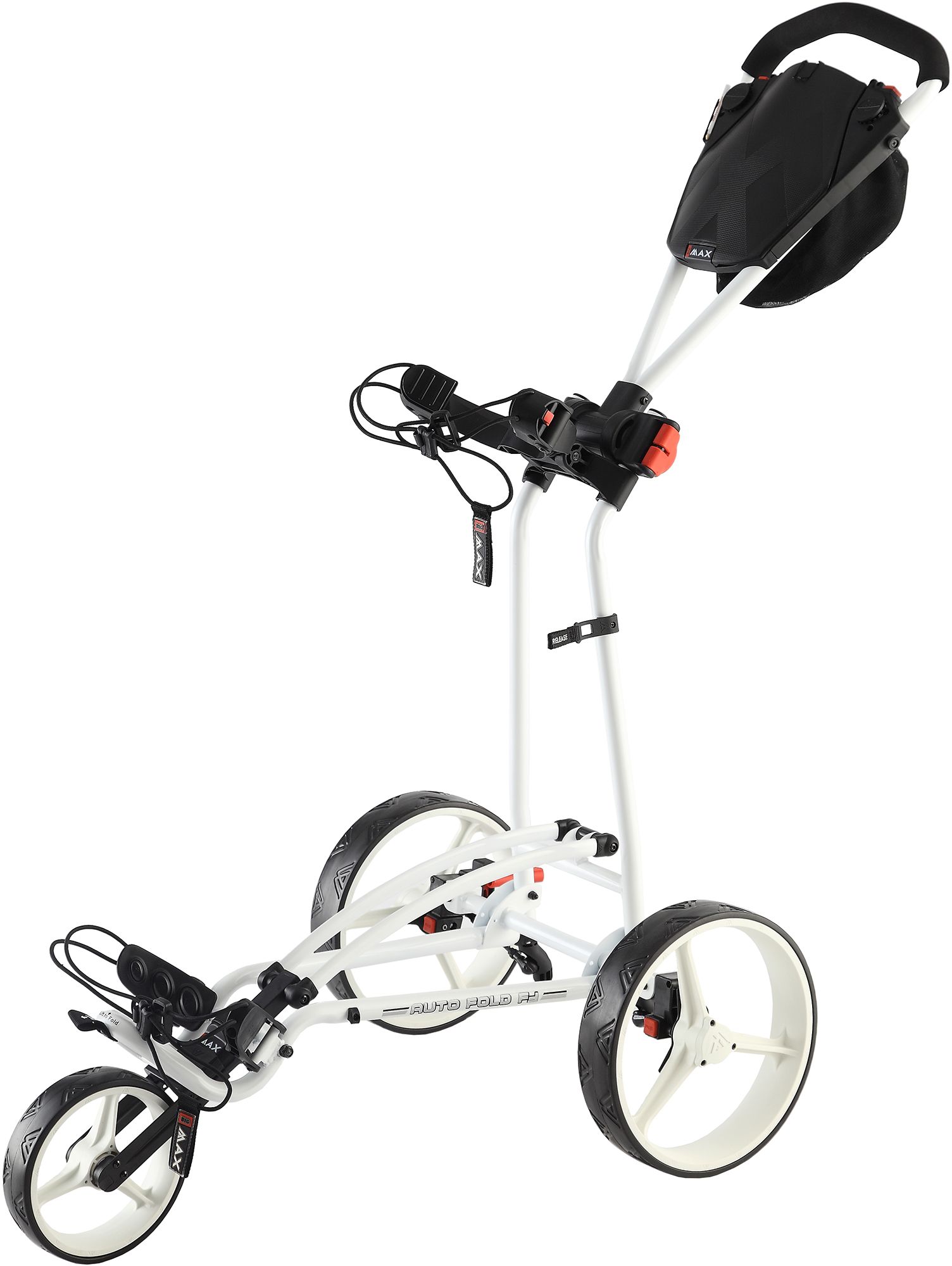 Tangkula Golf Push Cart
The Tangkula golf push cart has a stylish body featuring a lightweight steel frame that is strong and sturdy. You can push or pull this golf cart because of the smooth ball bearing wheels and the two functional foot brakes will keep this push cart from moving or falling over keeping you and your golf clubs safe and secure. The ergonomically shaped handle allows you to use either hand and move the push cart where ever you need it. You can adjust the height and angle of the handle to match your desired comfort. The three removable wheels allow you tidy storage. The Tangkula golf push cart can hold your umbrella and you can take a break with the convenient adjustable stool while you are waiting on the group ahead of you on the golf course.
Clicgear 4.0 Golf Push Cart
The Clicgear 4.0 golf push cart is a wonderful piece of golf equipment made for the everyday golfer. The aircraft-grade scratch-resistant aluminum is lightweight and very durable. The airless tires are maintenance-free and the parking hand brake will keep you on the golf course all day. The adjustable silicone bag straps adjust to fit any golf bag and will keep your golf bag safe and secure. There are numerous add-ons for this golf push cart that will be a huge benefit to every golfer who has one out on the golf course. This is a really fantastic golf push cart.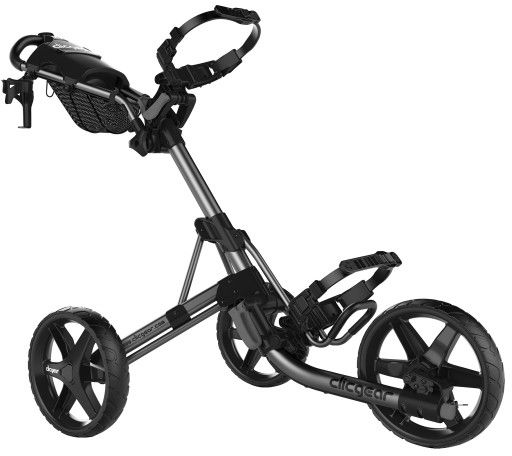 Tour Trek 2018 Junior Push Cart
Here is a great push cart for your junior golfer. This push cart is lightweight and durable. The two over-sized wheels let your junior golfer play and move with ease on the golf course. The heavy-duty straps keep your junior's golf bag safe and secure. The quick-release latch allows easy folding and unfolding for transport and storage. Another great feature is the adjustable handle that allows adjustment for any junior golfer. This is a fantastic push cart for juniors, they can use for a few years as they grow and enjoy golf.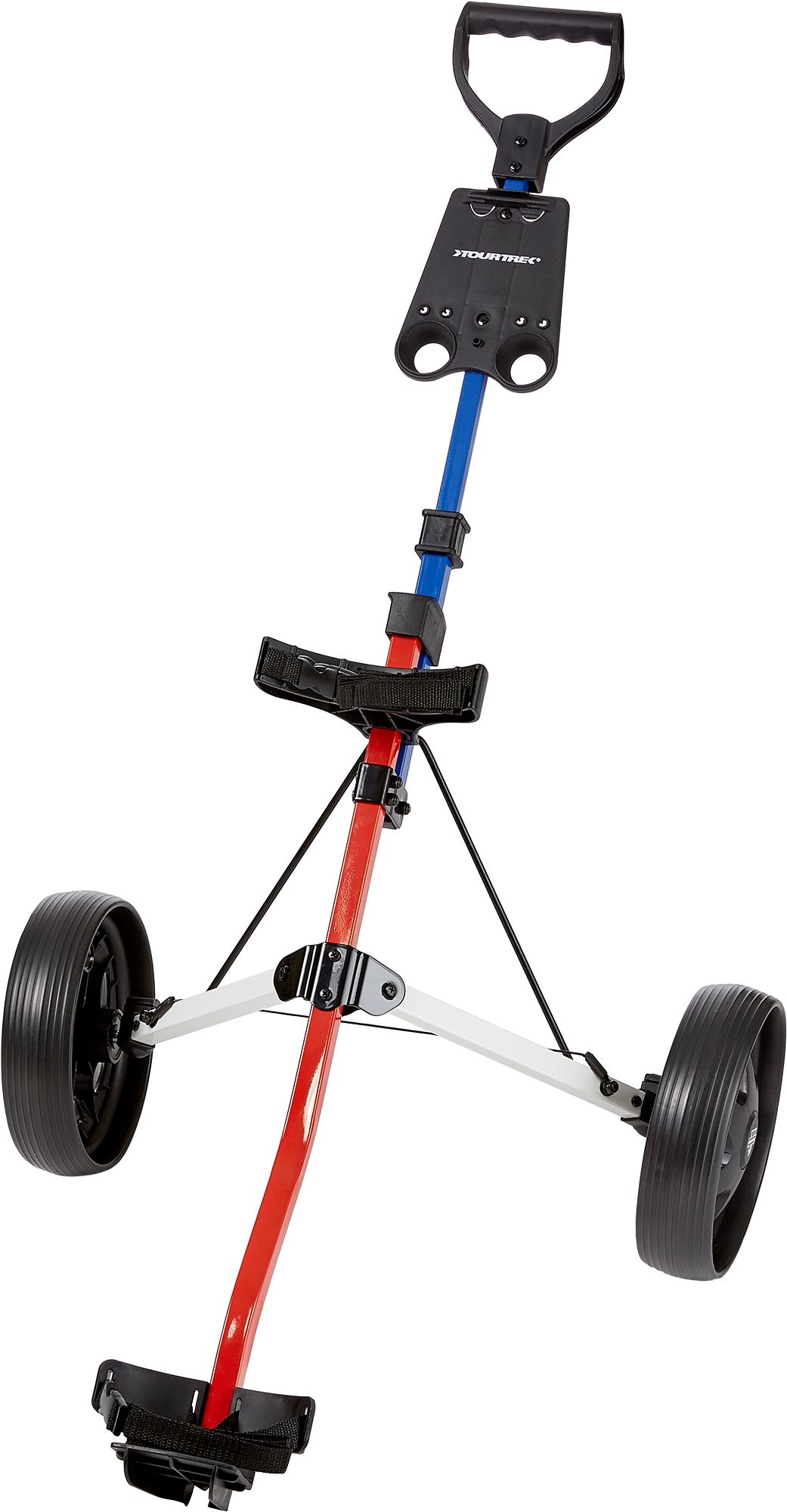 Bag Boy M-340 2 Wheel Golf Pull Cart
If you don't want to push your golf clubs then here is a great pull golf cart for you to try. The Bag Boy M-340 is a two-wheeled pull cart with a very simple folding mechanism that enables quick lift and fold and reinforced side rods for added durability. The 9.5″ wheels are removable and the pull cart has a quick-release hook and loop bag straps. Oh and don't forget the scorecard holder with built-in pencil, tee, and ball holder. This is a fantastic pull cart with just the right amount of function, and durability for you out on the golf course.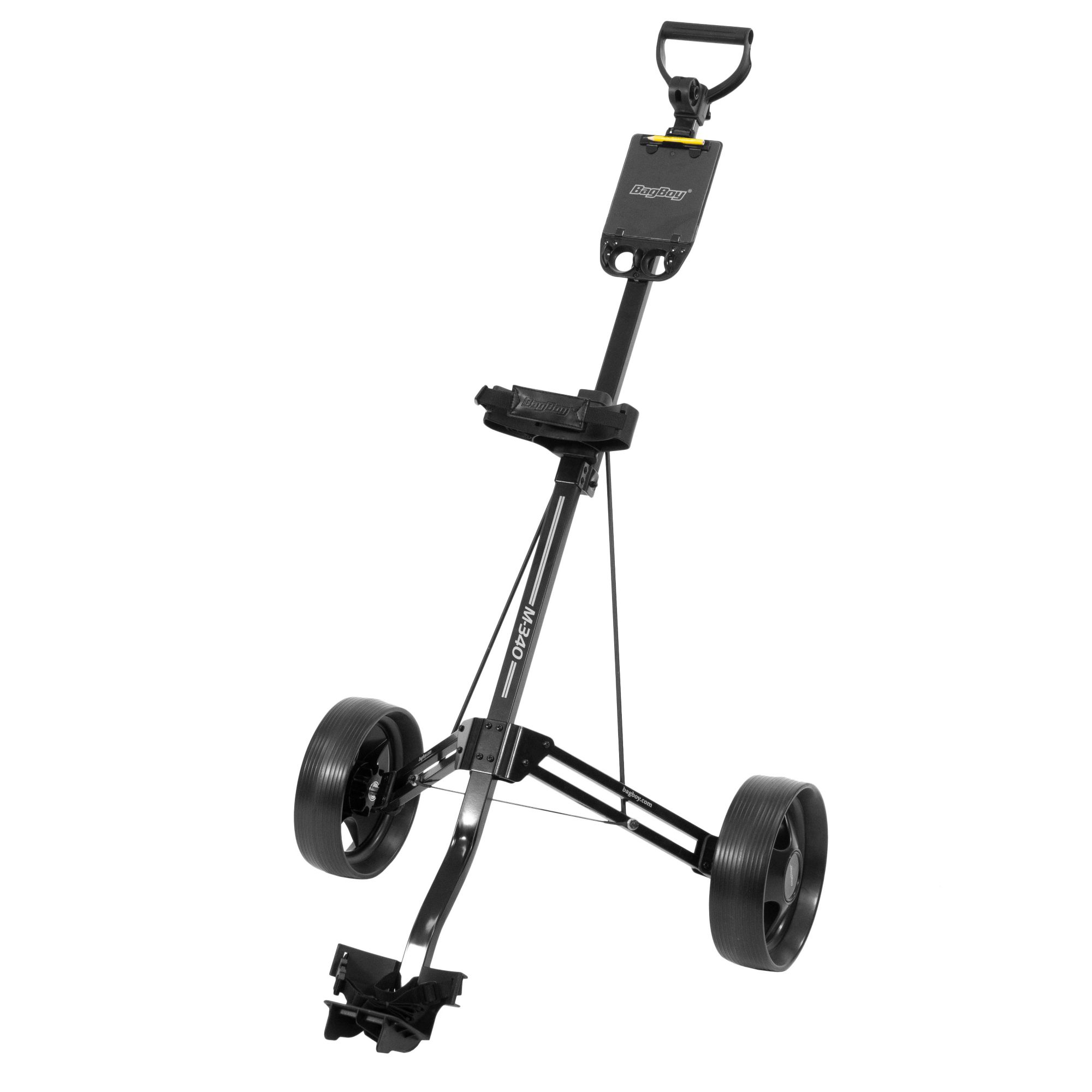 MGI Zip X5 Lithium Electric Golf Caddie
The MGI Zip X5 Electric Golf Caddie is a game-changer in the world of push golf carts. The 24v battery is powerful and ensures long-lasting reliability. The T-bar handle design gives you easy to use controls for hassle-free navigation. Large all-terrain tread rear wheels with a swiveling, lockable front wheel provide you with superior maneuverability, and stability, the fourth fully foldable wheel helps on the most rugged terrain out on the golf course. MGI's Controlled Distance Functionality combines with downhill speed control creates a next-generation convenience for you the golfer. The electronic parking brake stops and holds the golf caddie in its place no matter the undulation. The Zip design allows you a three-step fold process. If you want to experience golf in a new way then the MGI Zip X5 is what you need.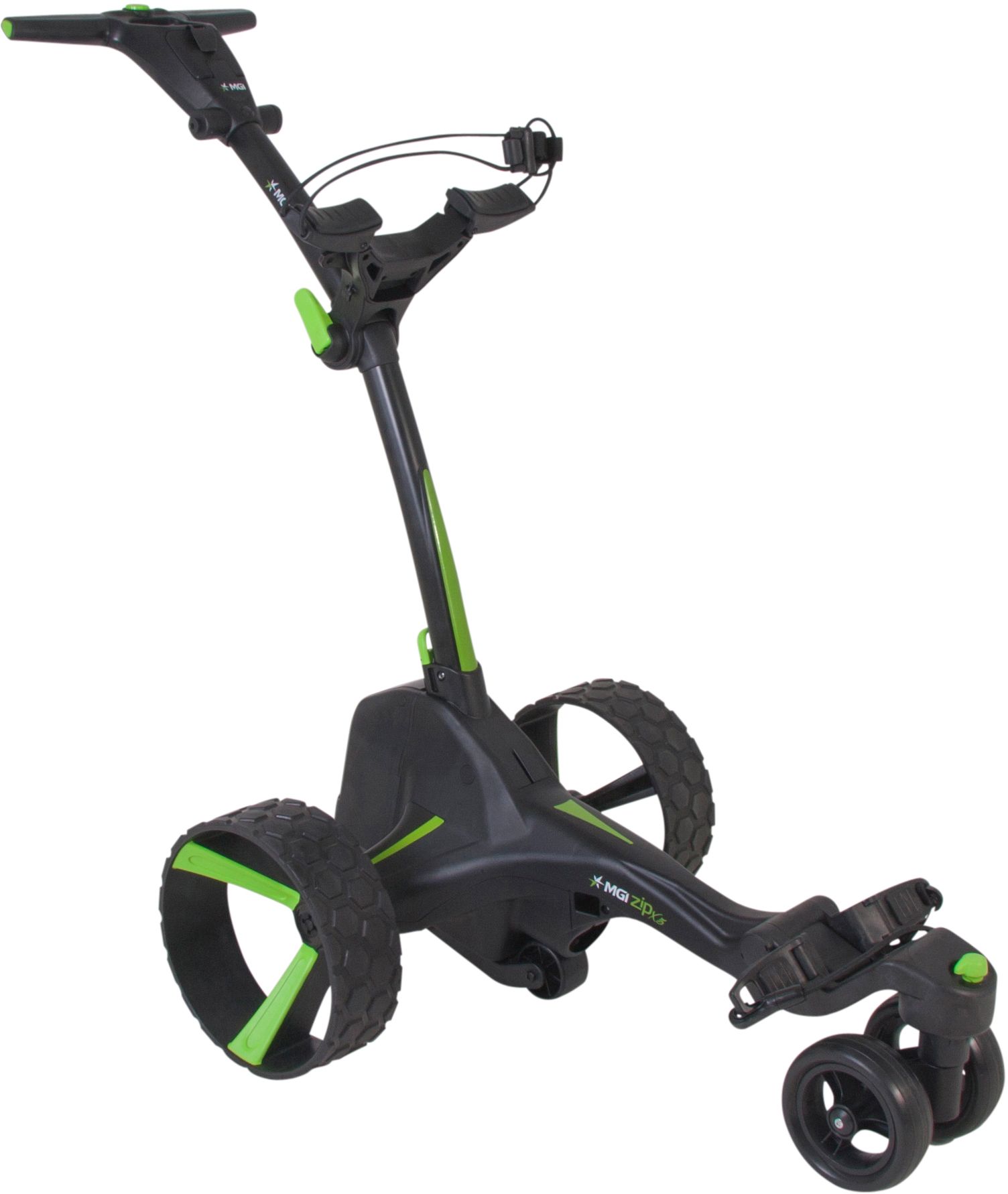 Conclusion
There you go 10 of the best push or pull golf carts on the market today. You got the push, pull, and electric to fit whatever needs you may want on the golf course. Any of these golf carts will save you back pain and tiredness so you can play every round of golf as fresh as when you pulled into the golf course parking lot.
LEAVE YOUR QUESTIONS AND COMMENTS BELOW