The golf season is HERE!!! Finally, we all get to grab our golf clubs and head out to our favorite golf courses and start swinging away. The first stops we all make are at the pro shop at the clubhouse and check out what this season has to offer us in brand new golf balls. We head up to the golf pro working the shop and ask him for the best golf balls for men, and he takes us to the best spot of the shop, the wall of golf balls!!!
Now we know what we like and what we love to play with, and for me, I am always looking for the newest and more advanced golf balls to try out. Here are my suggestions for the best golf balls for men.
*As an Amazon Associate, I earn from qualifying purchases. This post contains affiliate links, if you click through and make a purchase, I may earn a small commission at no cost to you.
What are the Best Golf Balls for Men?
There are 3 top brands of golf balls for men and the first is the Titleist Pro V1. The Pro V1 is an excellent golf ball for older juniors and men. The TaylorMade TP5X is great for juniors, men, and senior golfers. Last but not least, the Callaway Chrome SuperSoft which is great for seniors as well as juniors and men. These are the best and all of them improve your game and add more fun to your rounds of golf. Below is a list of other quality golf balls for men.
Titleist AVX Golf Ball
The Titleist AVX golf ball is a fantastic choice. The AVX is similar to the Pro V1 but has lower spin, more penetrating flight, and has a softer feel. The AVX has a lower compression but Titleist has built this golf ball with a flexible casing allowing for you to keep the ball speed up.
The AVX has the same amount of dimples as the Pro V1 but they are wider and shallower this helps you by giving you more distance on all of your irons,  also this golf ball is perfect for those windy days out on the golf course.
You can get these in bright yellow and white with custom numbers between 1-4. You can customize these golf balls by uploading your image or logo to Titleist. This is a great golf ball Titleist showing why they are #1 in golf.
Shop TaylorMade Drivers

TaylorMade Project (S) Golf Ball
TaylorMade has another great golf ball for golfers the Project (S). This is TaylorMades softest feel golf ball on the market and is softer than the Project (A) golf ball. This golf ball will benefit those golfers with a slower swing speed giving you a lower spin golf ball off your driver.
Project (S) has a soft feel on all of your iron shots and with the low spin provides you with a great golf ball for windy days out on the golf course. With the low spin, this golf ball does have some trouble sticking on the greens, so you will need to remember to let it run more on your chip shots on the green. The Project (S) is also friendly on your golf ball budget. You can get the Project (S) in three colors white, orange, red, and yellow. The Project (S) is a budge making golf ball, it has a soft feel and low spin. Oh, and please don't forget about TaylorMades' TP5 and TP5x golf balls.
Shop Ben Hogan Iron Sets

Honma TW-X Golf Ball
Honma from Japan has introduced this premium golf ball with the TW-X. The TW-X has great distance off the tees and provides you with more feel.
This 3 piece golf ball has a velocity NC core that gives you distance and control around the greens. The mid-layer gives you the low spin so you have long drives. The urethane cover gives you extra spin for around the greens making the TW-X an all-round golf ball.
Honma TW-X is another friendly budget golf ball and a very good golf ball for more experienced golfers.
Vice Pro Soft Golf Ball
Vice Golf has this Pro Soft golf ball that I like a lot. It's a premium 3-piece golf ball with a urethane cover that has a low compression to give you added softness and more feel off the golf club.
The Pro Soft is long off the tee and has high spin for control around and on the greens. The Pro Soft gives great feel and feedback and is for the golfer with medium club speed.
The Vice Pro Soft comes in white, neon lime, and neon red.  You can also get the Pro Soft personally customized. Vice Golf has a wonderful golf ball and I look forward to getting me some to try out this year.
Shop TaylorMade Golf Polo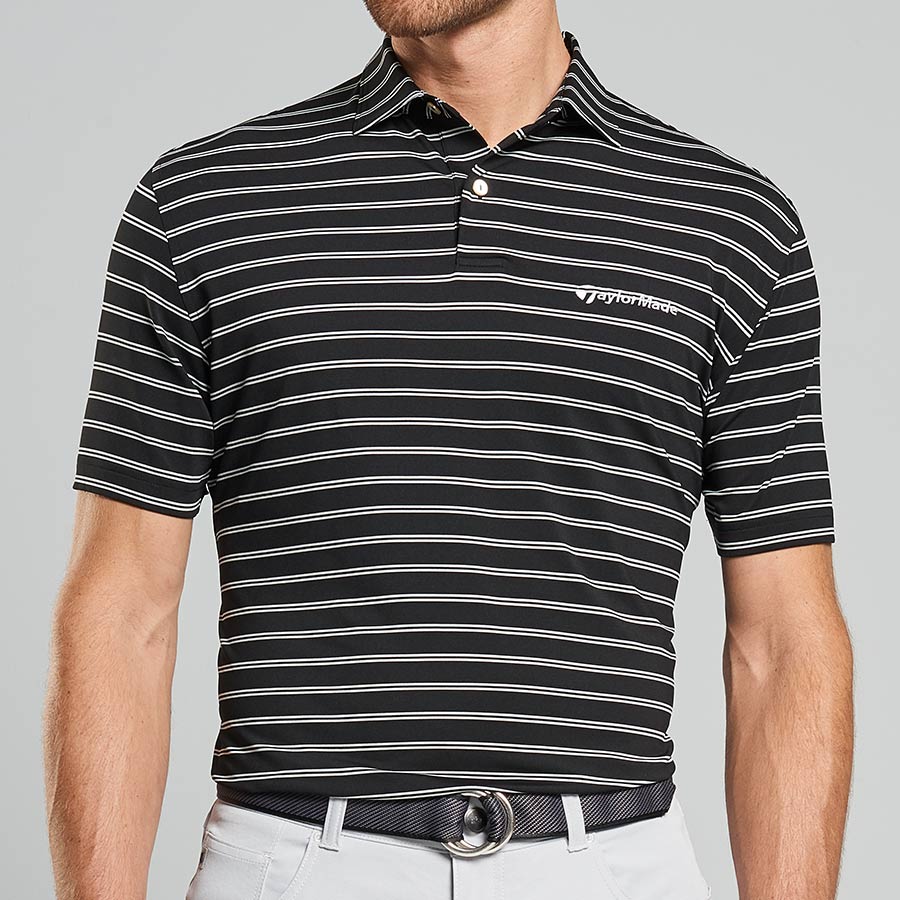 Callaway Golf ERC Soft Triple Track Golf Ball
Callaway has a new golf ball and they named it after the founder of Callaway Ely Reeves Callaway, the ERC Soft Triple Track. Pretty cool looking with the triple aligning lines and if you love red, white, and blue then this is your new golf ball!
The ERC is Callaways' longest and softest feel golf ball. Callaway has put its new innovative Hybrid Cover. The new cover is made with multi-material with this combination this golf ball has more feel, longer distance, and faster ball speeds. This golf ball also has a higher spin for more control on the greens.
Callaway gets this golf ball to go further with their new Graphene-infused Dual SoftFast Core. The ERC inner core is bigger which maximizes the compression energy that gives you a higher launch which then adds distance.
The Triple Track is two blue lines and one red line that is a little wider than the blue ones, it gives you a wider alignment element to line up your shots and putts. I really like this golf ball and I am sure you will enjoy this golf ball too.
Shop TaylorMade Golf Bags

Volvik Vista iV Golf Ball
Volvik has this 4-piece golf ball the Vista iV great golf ball and it comes in colors for us who may be having some sight problems. Vista iv comes in green, orange, pink, yellow, and white, with plenty of colors to choose from.
The Vista iv is for golf swings around 80-120 m.p.h so pretty much for most of us golfers. Vista iV has a wonderfully soft feel which is unheard of for a 4-piece golf ball.
The Vista iV has less spin around and on the greens, but I did find the Vista iS has more spin and feels softer than the iV. Volvik has done an excellent job with the Vista iV and iS and these golf balls work well with all golfers and have a good price. I really like this golf ball and you will too.
Shop Ben Hogan Hats

Dixon Golf Fire Golf Ball
Dixon has made a golf ball for those of you who are all about the environment. Dixon Golf Fire golf ball is the world's first 100%, Pro-Performance, Eco-Friendly Golf Ball.
The Fire golf ball has a 100% green core made from recycled material. The elastodynamic recyclable cast urethane cover. The cover has a 318 dimple pattern that gives you the best performance and playability. The box that the Fire golf ball comes in is 100% recyclable too.
Dixon does off a few other choices if you still want to help the environment. The Earth and Wind golf balls are pretty damn good also. The Earth golf ball is their medium flight and spin. The Wind is their extreme-distance golf ball.
Conclusion
Well men here is my list for golf balls there are a lot out on the market and I feel these are some of the best ones out there. You can't go wrong with any of these golf balls, they all are great performers and are made of the best materials, and use the most innovative technology to give us guys the best golf balls to go perform out on our favorite golf course. I will see all of you out on the course sometime this year.
LEAVE YOUR QUESTIONS AND COMMENTS BELOW