Welcome golfers!!! Today we are going to talk about my list for the best golf clubs for men. This list has some of the top golf clubs on the market today. These golf clubs will for sure aid in making big improvements to your golf game. From drivers, fairways, and hybrids to iron sets and putters. This list is going to benefit everyone and dramatically enhance your true golf game.
*As an Amazon Associate, I earn from qualifying purchases. This post contains affiliate links, if you click through and make a purchase, I may earn a small commission at no cost to you. 
What are the Best Golf Clubs for the Money?
There are all kinds of golf club sets that just about any golfer can buy and go straight out and start playing golf. There are your big brands like Callaway and TaylorMade but the best set of golf clubs for your money I suggest the Wilson Men's Profile SGI Complete Golf Club Set. Why? This golf set is custom golf clubs in a box. You choose between men's tall or men's standard the closest thing to having yourself fitted to your golf clubs, and the price is just perfect.
Drivers
The largest club in all our golf bags. The club that rockets our golf ball out 250-350 yards down that fairway on a beautiful day. The club that makes our competition weep and gasp as they see your ball straight and in the middle of the fairway. I have made a list of the best drivers for men so you will be able to do exactly that and make your game the best.
Titleist TS3 Driver
My first choice is this amazing piece of work from Titleist, the TS3 Driver. It has a very high ball launch and the ball speed is crazy. The TS3 is one of the more popular drivers on PGA.
It has the new Speed Chassis with a much thinner face, Titleist made the crown much more streamlined which has improved your ball speed and makes the driver a lot lighter.
TS3 still has the Titleist traditional look with a glossy, titanium, black crown which makes that impact sound so metallic which I love hearing. The titanium head is much louder than the carbon made drivers.
The TS3 feels firm, stable, and really solid. A great choice for your golf bag.
Mizuno ST190/ST190G
The next driver that I really like is from Mizuno. The ST190 and wow did the engineers do some crazy stuff here. They made these "WAVES" on the sole of the driver to create more forgiveness and made the sweet spot 50% bigger!!!
Then these geniuses lowered the CG (center of Gravity) with a carbon-fiber crown and a super-strong titanium alloy with a different thicknesses face. The ST190G which I call the little brother has a lower spin factor and these tracks with parallel sliding weights to aid your ball spin and your ball flight.
Mizuno did an amazing job designing these two clubs. My golf buddy John and I can't wait to get our hands on both and give them a try.
PING G400 Max Driver
My last pick comes from the world-renowned Ping Company. The Ping G400 Max is the Cadillac of all drivers on the market today. Ping is ahead of everyone in technology and design. They are the leader in upgrades and in changing the CG(Center of Gravity) from the front to the rear of their drivers. All the other driver manufacturers have started to follow Ping's new designs and engineering changes, how else is everyone going to keep up with the big dog in the driver sales.
The G400 Max has a smaller head size which allows for a little faster club speed. Ping has added these small raised areas to the top of the clubface to reduce the air friction also add slightly fast clubhead speed. Ping with this new design has also made the G400 Max a bit more forgiving on mishits and adding a few more yards on your drives.
Now so you know this new Ping G400 Max is expensive compared to everyone else But being the best and ahead of the curve on design and engineering the improvements that it adds to your game will be well worth it.
So if you are looking for the latest technology and design in a golf driver, Ping G400 Max is the winner and you will be very impressed with how it feels and delivers more distance and forgiveness, a must-have in your golf bag.
Fairways and Hybrids
Can any of us really use our 1,2,3, and 4 irons like they were meant to be used? Do you remember when you used those long irons? Well I know I have tried and 1 out of 20 got the result I was looking for. My golf buddy John let me use his 3, 4 hybrids one day and I couldn't believe how well I drove my ball better than my 3 or 4 iron.
So I have come up with a list of fairways and hybrids that you may or may not want to replace your long irons with, just have a game saver or get me out of trouble hybrid in your golf bag.
From
Ben Hogan Golf Equipment Company
Ping G Series Hybrid  Golf Club
This is the club my golf buddy John let me use. Now, this hybrid is more expensive than other hybrids, but we are talking about Ping, the leader in golf clubs.
I noticed this hybrid felt more like a fairway wood than an iron, so please make sure you are comfortable with that feeling before you buy this hybrid. The G series gives you a lot of input on all your shots. I noticed the extra length I got compared to the hybrids I've tried on the practice range. The best part is, I didn't lose any accuracy. I kept my swing path with this new design and you can use this hybrid in any of the unpredictable lies you end up finding yourself in.
Now, why would you want a hybrid in your bag? The extra distance is great but these are made to help us out when none of our other clubs are playing very well. That's why the Ping G Series is the best option for the accuracy and distance and troubled lies that we face when we are out playing golf.
Tour Edge Hot Launch 3 Hybrid
I talked about the Ping hybrid which is expensive but I found this less expensive hybrid from Tour Edge. This HL3 (Hot Launch 3) has a large sweet spot which is more forgiving on those mishits. Surprisingly the forgiveness is very comparable to the high dollar hybrids.
The Tour Edge Hot Launch 3 has a fantastic design it uses the rear CG(Center of Gravity) and with that gives a little more loft to your ball. You can get this hybrid in four different lofts. The HL3's clubface has more of a spring-like effect than some other hybrids on the market which will give you more distance as well.
The Tour Edge Hot Launch 3 is inexpensive and gives you the feel of the more expensive hybrids. So if you are like me I can't get the Ping but if I can get something very comparable to it this would be it.
Cobra Golf King F8 Fairway Woods
The whole reason we carry a hybrid is to save our butts when we end up in some unreasonable lie. Well, Cobra Golf has made a fairway wood for us who end up in those lies.
The Cobra Golf King F8 fairway woods are the answer to our prayers. Cobra added these tiny looking rails on the sole of the clubhead, which helps you cut through all types of grass with these clubs. The Baffler design lifts the sole of the golf club above the ground just a little which unbelievably helps to cut through tall grass, and they are so small it doesn't affect your swing when playing your shot from the fairway.
This fairway wood will work well from any lie on the course, from rough to deep rough to the fairway. This is why I like the Cobra Golf King F8 fairway woods for men.
TaylorMade Sims


Iron Sets
Before buying your iron sets you may want to decide what you want. There are three styles of heads for irons.
Blade: This style is used by the most experienced and very skilled golfer as well as the pros.
Cavity back: These heads are easier to hit and have more forgiveness than the blade heads.
Game Improvement: As you can probably guess this style of head is the easiest and most forgiving, best for the newbies starting out golfing.
All iron sets will have the choice of two styles of shafts. There are your steel shafts and the graphite shafts. The shafts will also come in different flexes, and those are ladies, seniors, regular, stiff, and the extra stiff shafts.
It would be best for you to go and try out all the styles and stiffness before you choose to buy your irons. Here is my list of iron sets for men.
Titleist 718 AP3 Iron Set
The 718 AP3 iron set is the fastest, and longest, irons made by Titleist, with the hollow-blade construction combined with the L-Face inserts these irons launch longer and higher with super shot-stopping spin.
It's most forgiving when you don't hit it squarely and has more feel for the player. You can get these irons from 3-Wedge. A gorgeous look and design that will add distance to your game.
Mizuno JPX 919 Tour Irons
The JPX 919 Tour irons are made with a compact profile that gives a surprising amount of distance and accuracy. These irons have the best feel and make tighter patterns when you hit off-center. The set comes with 3-PW.
It comes with steel shafts and is right-handed but the JXP 919 Tour Irons are beautiful, very well-made, and are used on the PGA Tour.
This is a really nice iron set and I would recommend it for more of a seasoned golfer with a low handicap and who wants to really dial in their golf skills.
Callaway Golf 2020 Mavrik Max Iron Set
Guys Callaway has designed a great new set of irons, the Mavrik Max. For the first time in iron sets design, Callaway has used A.I. Technology to develop this set. The enhanced 360 Cup Face gives you more ball speed and spin. Custom tungsten-infused weights in all the irons position the CG (Center of Gravity) perfectly.
The Flash Face Cup keeps ball speeds constant for that perfect launch and ball flight in every club. You can get these irons with graphite and steel shafts and in 3 different flexes, light, regular, and stiff. You can purchase this iron set in 13 different configurations, so you can get what you want and need for your golf game. Callaway Mavrik Max iron set is straight fantastic.
Ben Hogan Iron Sets



Putters
I have tried many putters that are out on the market today. I want to tell you that you need to spend a lot of time choosing one for yourself. Make sure you find one that is comfortable and gives you the feedback and speed in every roll. My list of putters for men has some of the best ones I have found today.
Shop Now for 25% off Spider Mini Putters!
Titleist Scotty Cameron Select Newport 3 Putter
This is the best putter I have tried out. It has a milled aluminum face with stainless steel, it provides you with the best feedback with every stroke.
There are two round weights in the bottom so you can change the feel of the club. A larger dampener behind the putter face makes the contact with the ball feel softer, with this it helps mishits with more forgiveness.
This is a high-end putter and it may take some extra practice to get your putting distance down.  Overall it's a fantastic top-notch putter.
Odyssey O-Works Red 2-Ball Putter
The O-Works putter is a mallet-style putter with a redhead and 2 white circles on top to aid you in visualizing your putting stroke path.
This putter has a micro hinged face insert with stainless steel and provides more topspin in your putting stroke, even if you have a mishit this insert will deliver more distance to your putts.
The O-Works putter has a heavier head and shaft that helps with the flow of your stroke. It also has a softer feel, giving you more feedback for you to have proper ball strikes. A very nice putter to have in your golf bag.
Pinemeadow Golf PGX  SL Putter
The PGX SL is a great product for any golfer to really get the feel for putting. It's a  mallet-style putter that will build confidence.
It gives you some similar looks and feels like the more expensive putters on the market. You can get this putter for men and women, in right and left-handed versions.
The 2X ORB Alignment System aids in giving you a perfect alignment and allows you to stay right on track with your putts. The Pinemeadow PGX SL comes in a white finish with 2 alignment circles with black lines for ball alignment on top. The white finish reflects sunlight so no glare and the PGX SL really stand out on the greens. A great putter for all skills of golfers.
TaylorMade Putters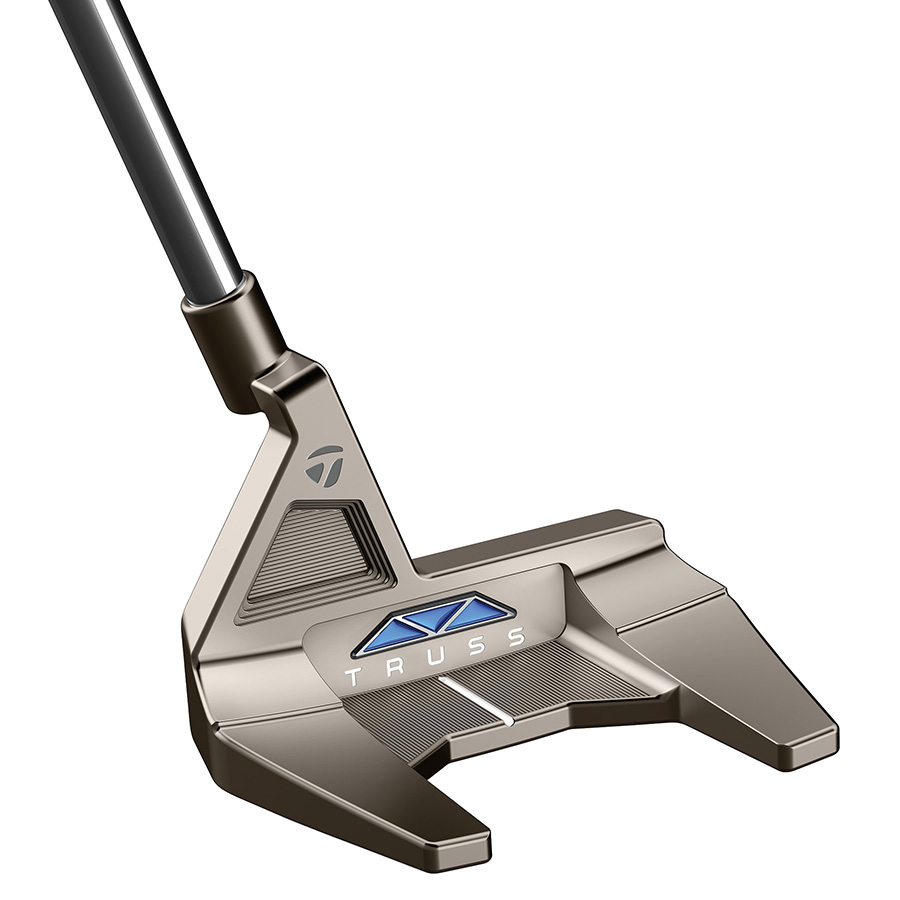 Conclusion
I have given you my suggestions for the best golf clubs for men. Many are the best made by the most trusted brands in golf, and some of them are being used on the PGA today. I know anyone of these golf clubs will help and improve anyone's game and also look great in your golf bags. You should take the time to try all of these golf clubs and find the ones you need to improve and make your golf game fun every time you go out to your favorite golf course.
LEAVE YOUR QUESTIONS AND COMMENTS BELOW