Have you noticed when you go out to play golf and you see scrapes of turf out of the fairways, or you walk up to the putting green and see that the putting surface is full of ball marks? Well, there is a tool for fixing those ball marks, divots, pitch marks on the greens. If you are new to golf you probably are wondering what is a divot tool and ball marker? Golf etiquette requires you to fix any of these divots or pitch marks to keep the golf course nice and playable for every golfer.  Here is a list of divot tools and ball markers to add to your golf bag, because no one wants to putt on a dented up green.
*As an Amazon Associate, I earn from qualifying purchases. This post contains affiliate links, if you click through and make a purchase, I may earn a small commission at no cost to you.  
What is a Divot Tool?
When you hit into the green and your golf ball lands and leaves a pitch mark or a divot, you must repair the blemish or divot using a divot tool or golf tee. A divot tool has two prongs and it may or may not have a magnetized ball marker on it, you use the divot tool by using the prongs with proper technique, you lift and stretch the grass back into place which gets rid of the divot and helps the grass to heal or grow back. By doing this it keeps the greens in perfect condition for every single golfer playing on the golf course. Below is a video showing you the proper technique on how to repair a divot.
Team Golf NCAA Switchfix Divot Tool and Ball Marker
Switchfix makes a great retractable golf divot tool and you can get it to match any of your favorite college teams. This divot tool has a soft-grooved handle with double-sided magnetic ball markers. The lightweight aluminum blades make this divot tool easy to use and you can quickly repair your ball mark with very little damage to the putting surface. The switchblade-style is simple to use and is safely stored in your golf bag or in your shorts and pants.
Team Effort CVX Divot Tool and Ball Marker
This patented CVX divot tool and ball marker are just great. Using a 19-degree angle puts you at the perfect angle to repair ball marks. You get comfortable finger placement with the ergonomically custom contour rails. The indented thumb placement is textured for a secure fit and provides comfort and traction when using this divot tool. There are two (2) magnetic ball markers that are 25mm iron stamped that have your favorite team logos.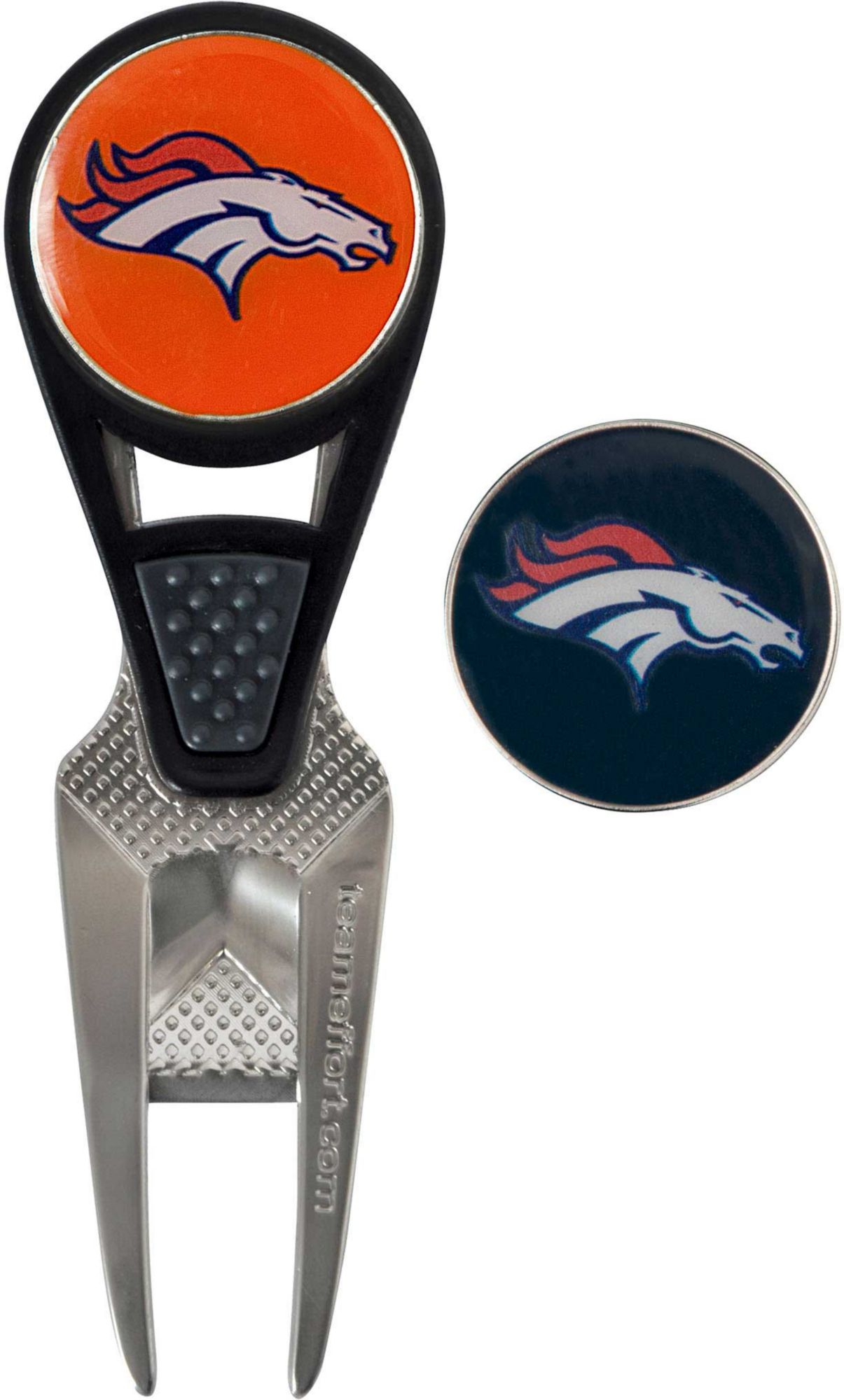 Kenrick Golf – Divot Tool and Ball Marker Belt
Kenrick Golf has this stylish divot tool and ball marker combo all in a beautiful golf belt. Kenrick Golf has this patented premium golf belt made of genuine leather and is made in the U.S.A. This divot tool is made of cast aluminum metal with a special alloy to give it strength with 2 stainless steel ball markers that magnetically attaches to the back of the divot tool. You can get this golf belt in black with black stitching, black with white contrast stitching, white or brown, or crocodile-embossed calves' leather. Just pure beauty.
Golfer's Best Tool Golf Multitool ALL-IN-ONE
This is the golfer's best tool! This All-In-One multitool has 6 functions all in a small package that attaches to your belt with a strong aluminum belt clip. The rubberized non-slip grip keeps this nicely in your grasp. This golf tool has a ball marker, golf club groove cleaner, divot tool, brush, cleat tightener, stroke counter, screwdriver with bottle opener, these tools are all stainless steel. This golfer's tool is lightweight, compact, and perfect for any golfer.
Personalized Wood Golf Ball Marker and Divot Tool
I found this beautiful personalized ball marker and divot tool for any golfer. The divot tool is made from durable alloy metal and the marker is made of wood, which is magnetized to the divot tool, so you get a 3-in-one tool. The coolest part of this divot tool is it can be used to support your putter!!! You can choose from dark walnut wood, light oak wood, or a black blank base. Your personalized engraving is done FREE!!! After you order just send the guy your name or initials and your choice of wood. This would make a great gift for any golfer.
Victorinox Swiss Army Golftool
Do you like Swiss Army knives? Victorinox the makes of the Swiss Army knives has put out a fantastic golf divot tool that looks similar to the Swiss Army knives and I freaking love it. My kids got this for me for Father's Day and it is the perfect golf tool I have ever used. There are 10 functions this bad boy can do for you. You got a ball marker, knife, one-hand locking divot tool, bottle opener, tee punch, and golf club groove cleaner, toothpick, tweezers, and scissors. Stainless steel construction put inside a specialty matte translucent ruby nylon case that makes it look close to the world-famous Swiss Army knife. I just love this thing it has everything I need and looks cool when I am out on the golf course, I can use this to open beers for me and my fellow golfers.
GOLTERS Golf Divot Repair Tool with Ball Marker
GOLTERS has this fantastic divot and ball marker for women. This is made from a zinc alloy which will give you a long-lasting durable divot tool. The divot tool has a bottle opener with a magnetic cap that catches bottle caps so they don't fall onto the ground. The ball marker is magnetic and the divot tool can be used as a groove cleaner as well. This divot tool is lightweight, solid, and just plain simple, the size of this divot tool is 24.4mm, will fit perfectly in any pockets. I really like the simple design and love the bottle cap magnet, great divot tool.
Pitchfix Golf Divot Tool Twister with Ball Marker
Pitchfix has this crazy great divot tool that leaves the greens almost completely unmarked after a divot repair. This patented divot tool has a rubber body with a shiny ABS top and removable 1″ ball marker. You can get this Twister divot tool in great colors to match your golf bags. I have used this divot tool and it is a very well made divot tool. Any golfer would love to have one in their golf bag. Pitchfix also has a foldable version click here to see it.
Frogger Golf HOP Divot Tool and Ball Marker
This divot tool and ball marker from Frogger Golf is really awesome. This is probably the best 2-in-1 golf divot tool and ball marker that I have seen. The divot tool is called a HOP because the ball marker actually will hop onto the divot tool. No matter if you put the ball marker in your pocket or leave on the green, just get the divot tool close and watch the ball marker HOP right on. The other feature I like is the groove at the top that allows you to keep your golf club grips dry and raised up off the or around the greens, This is just a really fun, and simple golf divot tool.
Birdicorn The 6-in-1 Divot Tool and Ball Marker
Birdicorn has these fantastic and totally unique divot tools and ball markers I have ever seen and used. Made from CNC aluminum these are very lightweight and durable. There are 5 colors to choose from gold, green, orange, purple, silver and each has this wonderful bird ball marker which I just love. This one little golf tool can be a ball line stencil, divot repair tool, ball marker holder, bottle opener, groove cleaner, and putting alignment aid. You can also use this divot tool as a golf club rest keeping your golf club up off the ground, I would use it for my cigars personally. This is an awesome divot tool I really like all the parts of it and I will be getting me one of these soon, you should too!!!
Shop Ben Hogan Golf Equipment
click below ⇓
Conclusion
Golf etiquette teaches us to fix all your pitch marks, golf ball divots so that all golfers can enjoy a beautiful golf course. I listed here ten of my favorite and unique golf ball divot tools and ball markers, please get you one for yourself or any golfer so that we can all keep our favorite golf courses greens neatly repaired and dent free so that our kids and all of us can go out and enjoy this wonderful game called golf.
LEAVE YOUR QUESTIONS AND COMMENTS BELOW