Honey, have you seen my golf shirt??? Yes, dear, it's in the bedroom closet. You probably are wondering what is a golf shirt? Well, is it a polo style, tennis style, or just a casual button-up? Below are my favorite golf shirts for all golfers from small to the big, short to tall, and thin to wide.
*As an Amazon Associate, I earn from qualifying purchases. This post contains affiliate links, if you click through and make a purchase, I may earn a small commission at no cost to you.  
What is Considered a Golf Shirt?
Every sport has uniforms or what I call their sports attire. In golf, there is a golf etiquette or should I say golf uniform that requires you to look good, no torn shorts and t-shirts. The golf shirt has a collar with points meant to lay flat, golf shirt can come with or without 3 buttons, usually with a left breast pocket and loose sleeves for movement, made from usually a 100 percent polyester or a 50-50 mix of cotton and polyester, these materials allow what we call moisture-wicking which pulls your sweat away and keeps you cool and no sweat marks left on the shirt, just the greatest invention for us rollie-pollie golfers. A great example is the famous polo shirt, golf took this stylish look from the sport of tennis that you know has tennis shirts, pants, and skirts which you see golf pros men, and women wearing today.
 TaylorMade Polos
Shop Now for 50% off select polos!
What are some of the Best Golf Apparel Brands?
There are several clothing brands that design and manufacture some of the best golf clothes today. With the newer materials, golf shirts have evolved to always look good no matter what the temperature is or how much you may sweat. Some of the best golf shirt makers are Adidas, Nike, Puma, Under Armour, and Ben Hogan, Ralph Lauren, and Calvin Klein. Let us not forget about these guys either, Castore, Burberry, Peter Millar, Psycho Bunny, and more.
 Golf Polo Shirts
1. Lesmart Golf Polo
Lesmart has some of the best golf polos on the market. They have polos for men and women and are made with exquisite workmanship and pique knitted fabric. Natural moisture-wicking keeps you cool and dry out on the golf course even on hot summer days. The polos come in stylish colors and a multitude of sizes to fit any golfer just perfectly right.
2. Castore Golf Polo
Know as the premier sportswear brand Castore has the best luxury line of golf apparel. Castore has a new collection out called the Ronda Collection, has some of the most advanced shirts, pants, shorts, and jackets. Castore products are awesome, look fantastic, and are made for play golf and will last FOREVER!
3. Three Sixty Six Golf Polo
Here's a really good golf brand, Three Sixty Six an innovative golf apparel company that has everything you need for golf. has a great choice of polos and sweaters too. All kinds of colors and patterns to make any golfer look great. I wouldn't be surprised to see Three Sixty Six up with the likes of Nike and Puma very soon.
4. Nike Golf Polo
Nike working on becoming number one in sports apparel and with Tiger Woods sporting Nike shirts and pants then I see no reason why you can look and play like Tiger. Nike has the most advanced products and Nike shirts prove it. Wearing these will make us weekend hackers look and feel like the G.O.A.T.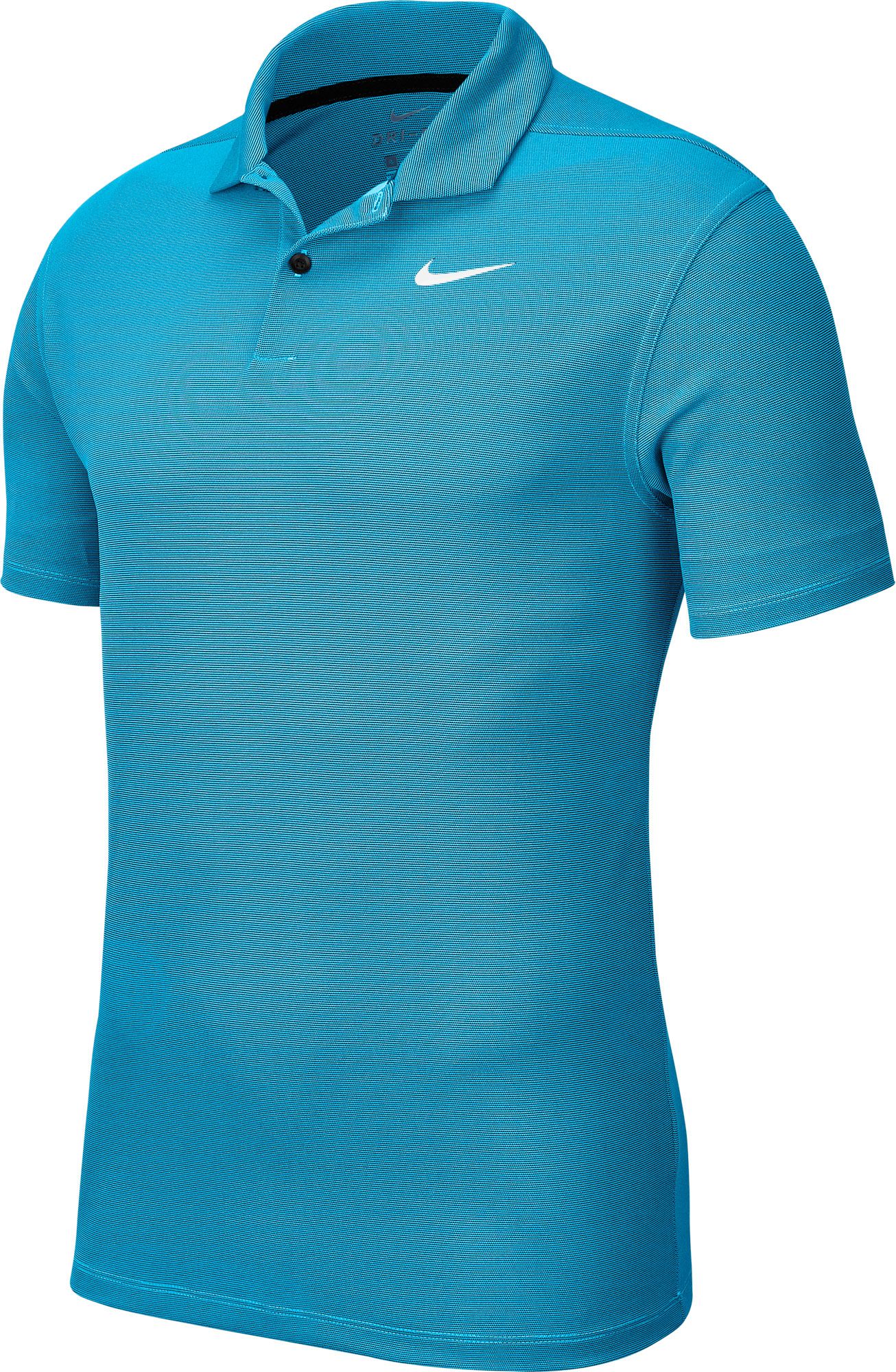 5. Burberry Golf Polo
Burberry is another great brand, established by Thomas Burberry in 1856 to make clothes to protect people from the British weather. Burberry has a fantastic choice of polos for golf made to last and made to make you look great. Burberrys fantastic looking golf polos will have you playing like a grand champion.
6. Adidas Golf Polo
Adidas has designed a great golf apparel line for golfers. Using built-in UPF 50 that protects you from sunburn, a 3-button placket, and collar with a contrast inner placket to give you that added golf course look style. Adidas has done a fantastic job with its golf apparel line and it goes well with slacks or shorts. Adidas also features clothes for women and kids.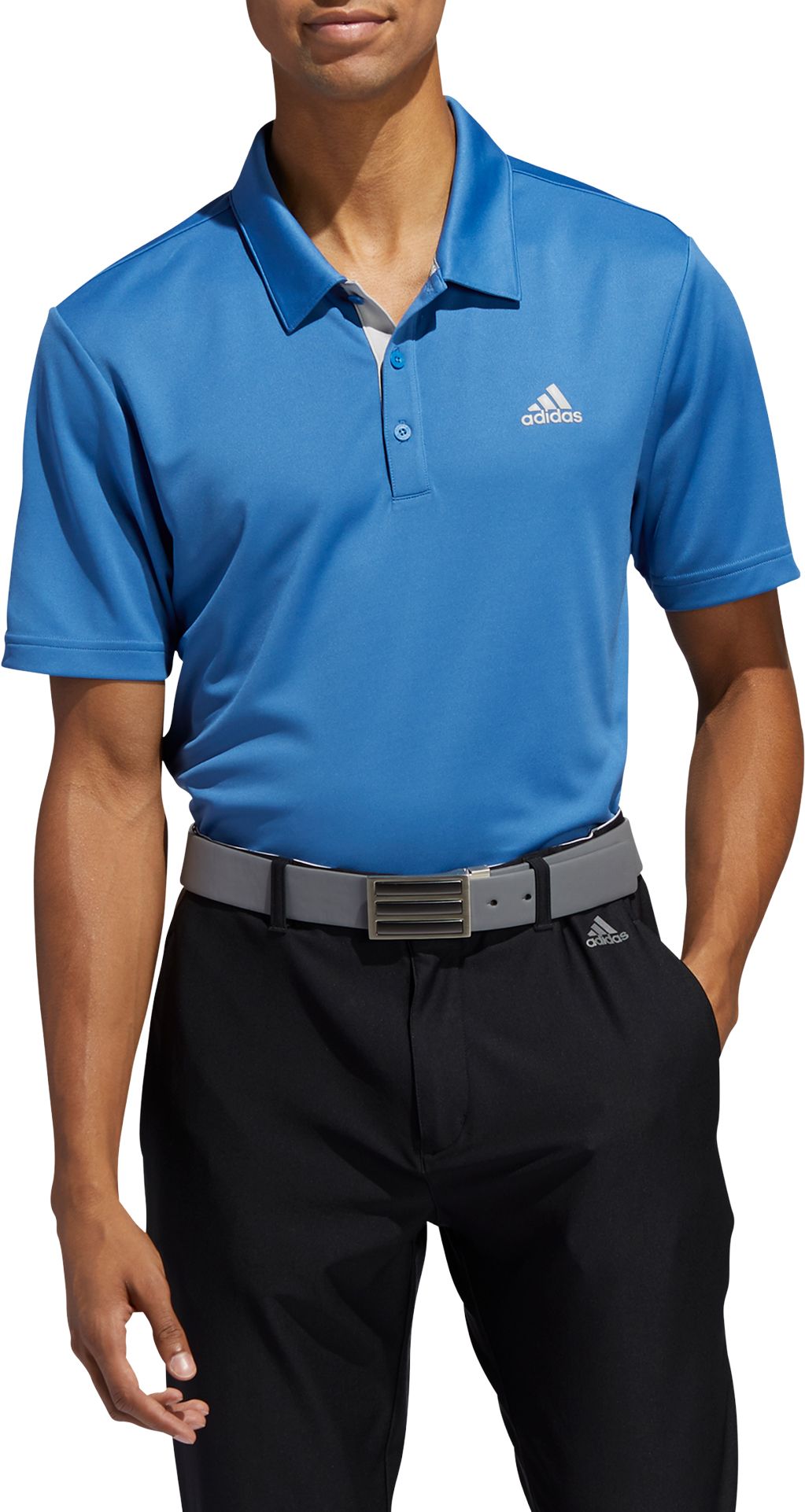 7. Puma Golf Polo
Puma who has one of the best golfers out on Tour and a great golf apparel model Rickie Fowler has made Puma relevant in the golf apparel industry. Puma offers tons of clothes and in extended sizes for us bigger guys, that will look and perform above and beyond your expectations out on the golf course and still look great at work or any other casual gatherings.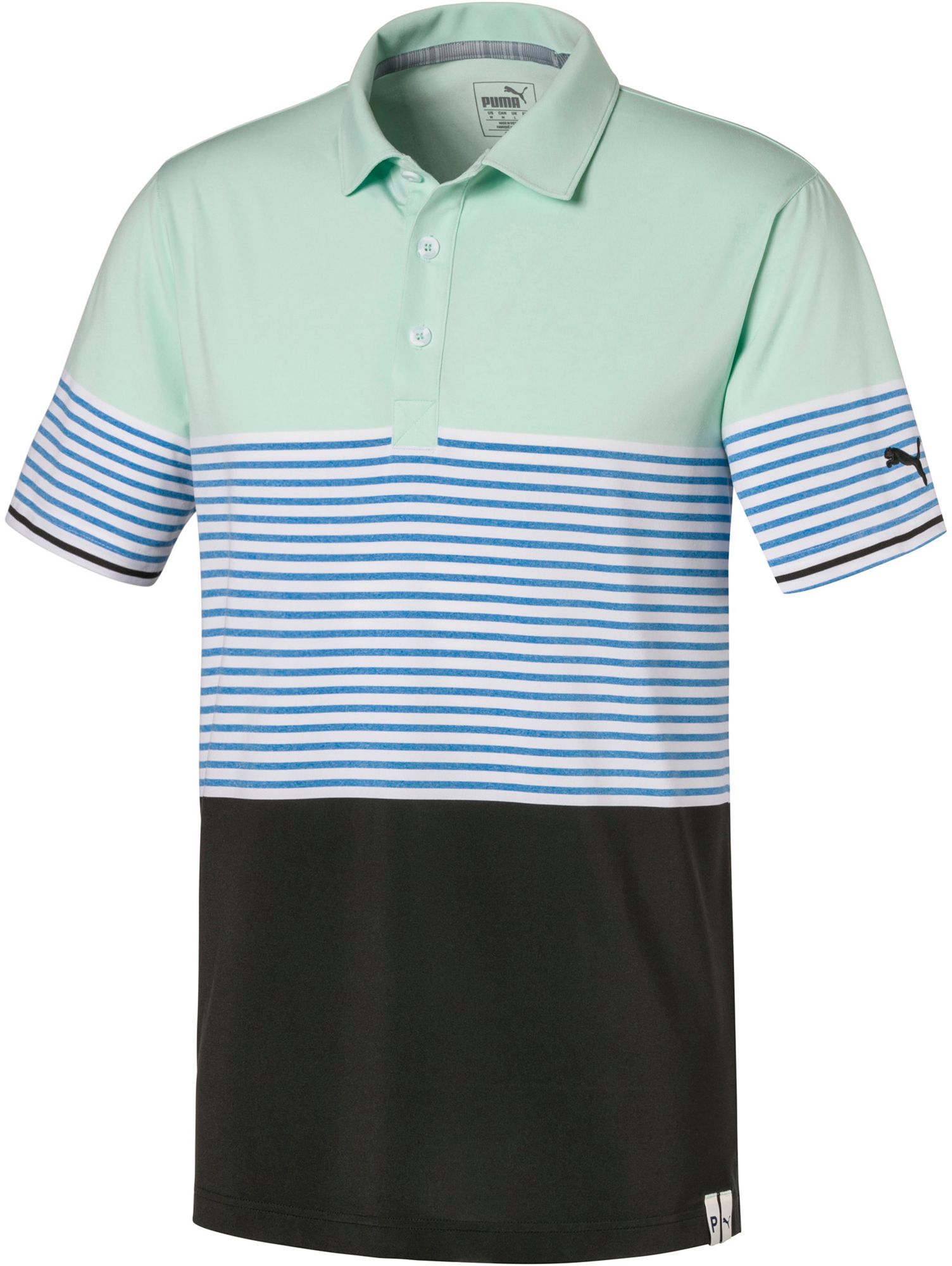 8. Peter Millar Golf Polo
Peter Millar has fantastic golf apparel collections including men's, women's, and youths. Peter Millar has designed their golf apparel with sophisticated style and innovative high-performance fabrics, which will keep you looking great and comfortable out on the golf course or in the clubhouse.
9. Slazenger Golf Polo
Slazenger makes golf balls and accessories for all ages of golfers. They have out their new apparel line which is very stylish and designed to give you proven performance out on the golf course. Slazenger uses moisture-wicking fabric to keep you cool. Slazenger has great products and pros wear them on Tour.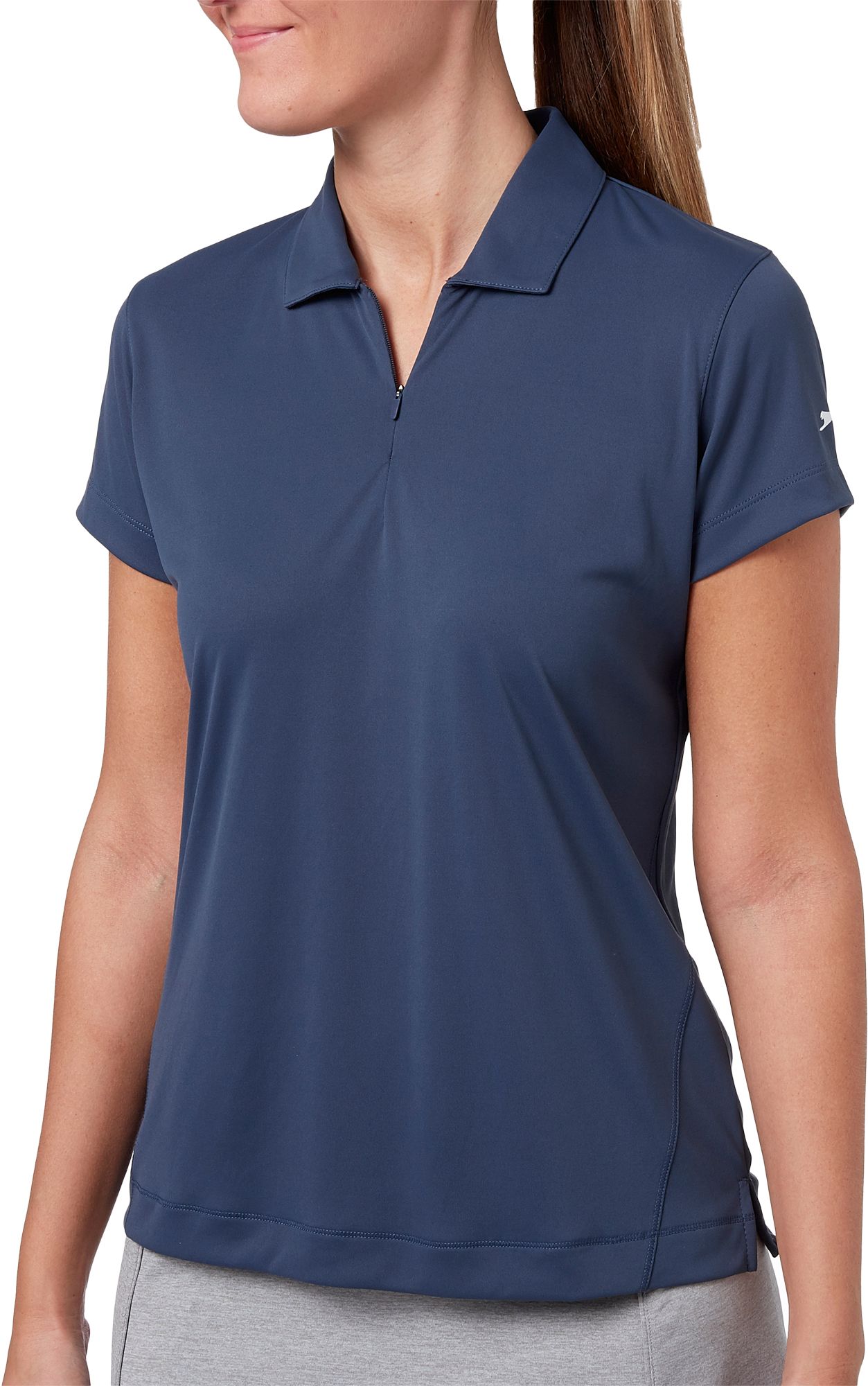 10. Psyco Bunny Golf Polo
This is a great golf shirt company, Pyscho Bunny. I wear these along with my Ben Hogans shirts and Pyscho Bunny ranks right there in the top five. Made of one hundred percent Peruvian Pima cotton, with their classic polo look fits you better and gives you a great golf appearance. Machine wash it will last over and over and still look fantastic.
11. Ben Hogan Golf Polo
Ben Hogan offers top of the line, affordable golf apparel for golfers, and is the one I choose to wear for myself. Ben Hogan makes me, a 250lb fat guy, appear to look like a professional golfer. I can be out in the high nineties to a hundred degrees and sweat like a pig, but I stay cool and the shirts and shorts show no sweat marks, perfect. I really love the Ben Hogan collection and for anyone like me, you will too.
12. Ralph Lauren Golf Polo
The Ralph Lauren golf apparel collection is very exciting and has some of the most classic looks for golfers. Moisture-wicking fabric, 3 button-up closure, left chest pocket. Ralph Lauren has done a fantastic job with its golf apparel line which includes lines for kids and women and everything you need to look great playing golf.
13. Calvin Klein Golf Polo
Calvin Klein is the choice for comfort and performance needed out on the golf course. The relaxed-fit golf polo allows you a wide range of movement while maintaining the shape of the polo, making you look great at all times. Smart tech fabric makes this polo super-soft, breathable, lightweight, and moisture-wicking material will keep you dry and comfortable all day out on the golf course.
14. FootJoy Golf Polo
Number one in golf shoes, FootJoy also has some of the best golf apparel for today's golfer. FootJoy has clothes, shoes, and accessories for the whole family. For sixty years FootJoy has been the number one golf shoe on the PGA, Now they offer you everything you need to look good and perform well out on the golf course.
15. TaylorMade Golf Polo
TaylorMade is the premier golf brand in golf.  Amateurs, Pros use TaylorMade on all tours. TaylorMade has everything golf. TaylorMade has a great variety of clothes for all golfers and I would recommend you check out TaylorMade for your golf needs if its golf clubs to golf shirts.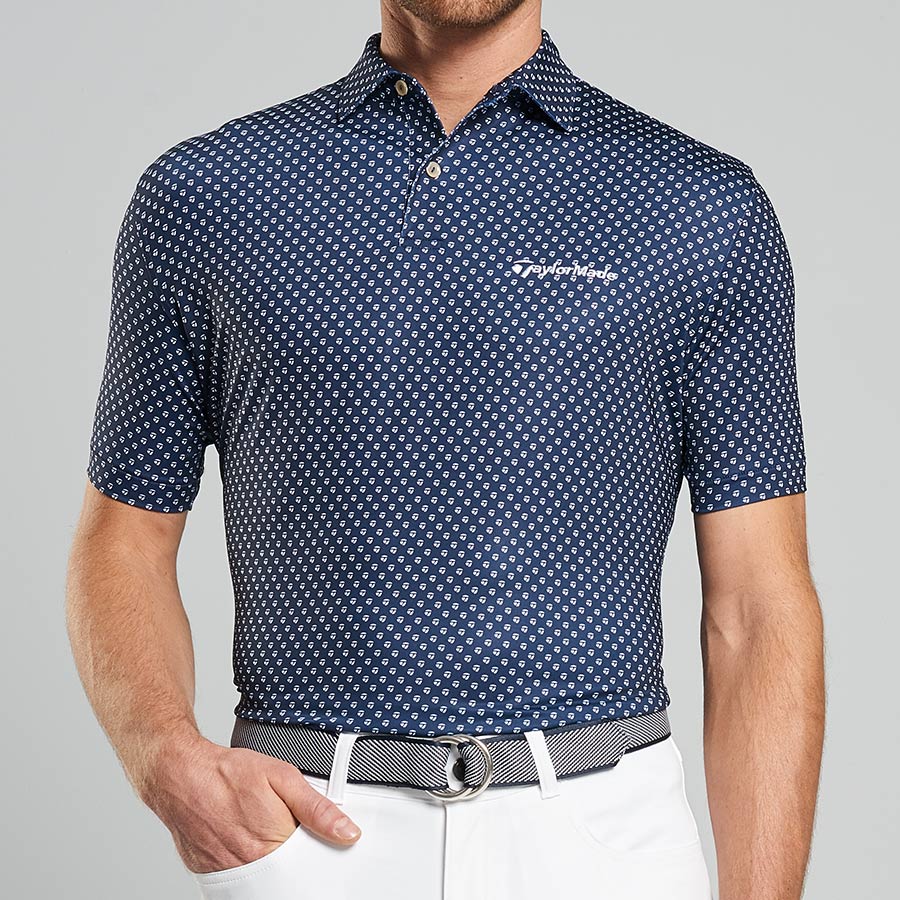 16. Phil Mickelson Golf Polo
Phil Mickelson and in collaboration with Mizzen + Main have the Phil Mickelson golf polo collection looking awesome, and being the top performance fit for all us golfers. Mizzen + Main cut extra room across the chest and body to allow you to move comfortably in your golf swing. Knit and button-up, machine wash and tumble dry and you will look and feel like the great Phil Mickelson.
17. Under Armour
Under Armour and their golf apparel line is one of the best out there today in the golf world. Under Armour covers everyone looking and needing stylish and comfortable golf clothes that perform and look great. Moisture-wicking fabric and anti-odor technology give you zero distractions and a great look while you are out on the golf course.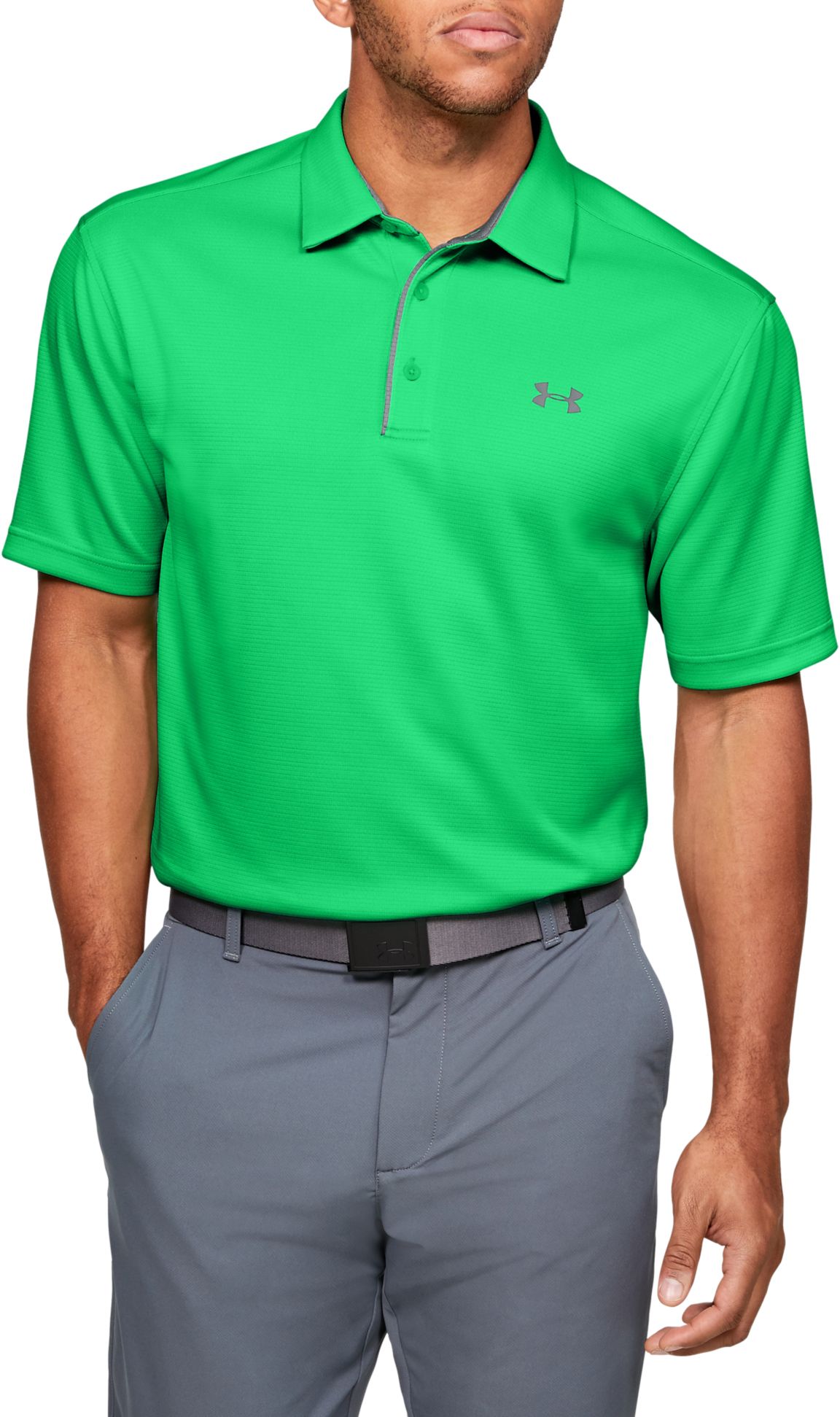 18. Bad Birdie Golf Polo
Bad Birdie golf polo is the best golf polo today and I am going to start wearing these bad boy polos. Featuring 4-way stretch material, UPF 50+ sun protection, and anti-odor. Bad Birdie also features anti-microbial, moisture-wicking. Bad Birdie polos have an athletic fit and wrinkle resistance. Bad Birdie has the patterns to choose from and the colors are outrages.
Conclusion
There we go golf lovers, a fantastic list of some of the best golf apparel companies, and a couple of my favorite ones in golf today. All these manufacturers use state of the art technology and the most advanced fabric in the world to give us golfers' comfort and performance so we may enjoy this wonderful game called golf.
LEAVE YOUR QUESTIONS AND COMMENTS BELOW