Senior ladies, is your golf game getting a little weaker than it used to be? Are you not driving your golf ball as far as you did before? Are your iron shots getting more difficult to stick? Well, the golf gods have come to help you out. Golf manufacturers are making new golf clubs and golf balls to help solve your problems. Here is my list for women's senior golf clubs to help save your love for this game called golf.
*As an Amazon Associate, I earn from qualifying purchases. This post contains affiliate links, if you click through and make a purchase, I may earn a small commission at no cost to you.
What Height are Women's Golf Clubs Designed for?
Women's golf clubs are designed with a standard height of 5 foot 5 inches to 5 foot 9 inches tall. If you are taller than 5 foot 9 inches you can use men's golf clubs because they are an inch longer than women's golf clubs. Now if you are shorter than 5 foot 5 inches most golf companies make petite golf clubs sets for you or you can subtract an inch off the standard driver and a half-inch off the rest of the golf clubs.
Precise Premium Ladies Golf Clubs
Tired of watching the mailman deliver your mail? Is the senior center getting boring with the same old card games? Well, Precise has the answer and the cure for you.
Precise Premium Ladies Golf Clubs are designed for the ladies wanting to begin a new journey in this fantastic game called golf. This set is rated very highly for senior women and the high handicappers. Precise has made these clubs to be more fun for anyone using them out on the course.
Precise has made this set very affordable, you will probably spend more on green fees and drinks at the clubhouse in a month than what these cost upfront. Plus if you decide golf isn't for you, your not out a ton of $$$.Precise Premium golf clubs have been rated a " Top Performance" golf club set.
This set comes with an oversized Driver, Hybrid, Fairway wood, and Irons 5-PW with a putter. It also has three headcovers for the driver, fairway wood and hybrid this set also has a rain hood in case you get stuck in a rain shower out on the course. These clubs come with all graphite shafts that are super light and have maximum designed flex for the senior ladies. The putter is basic but does have an alignment line to help line up your ball and putts.
Precise has put this set into a very nice stand bag with double padded shoulder straps, which makes it easier to carry if you plan on walking without a push/pull cart or a golf cart. Precise has done a very good job on this set and if you are looking to have some fun and sun this set is just right for you.
TaylorMade Kalea Golf Club Set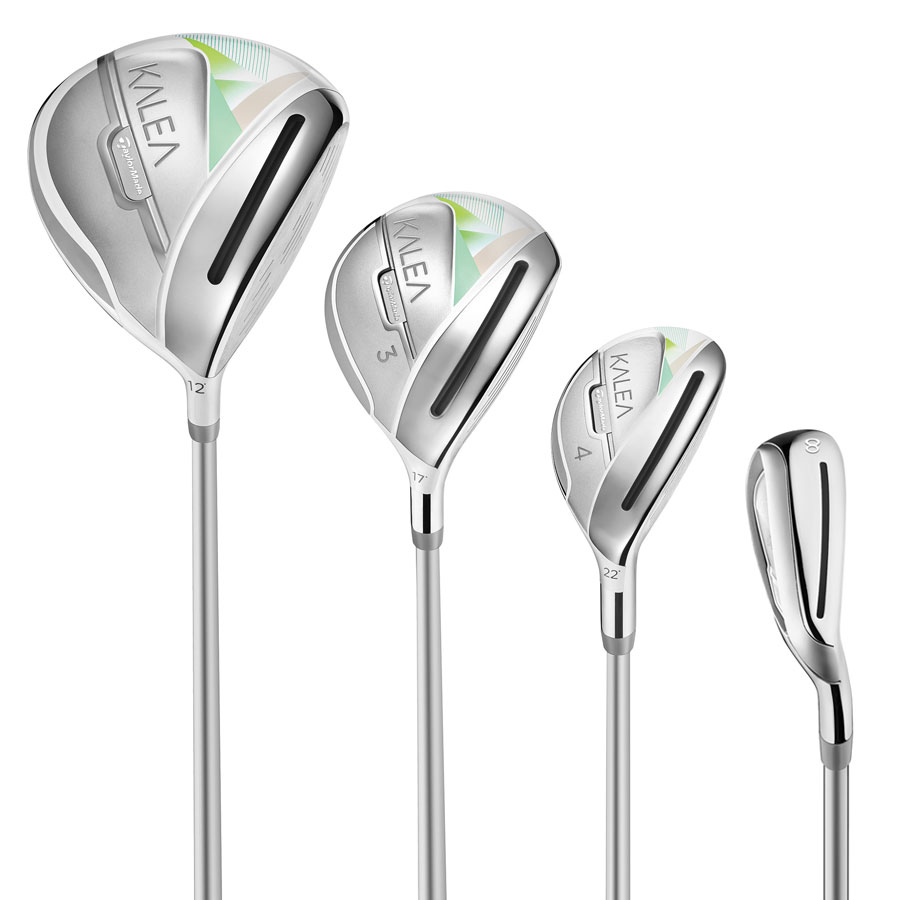 Callaway Strata Ultimate Golf Clubs
Callaway has made this great full set of golf clubs for senior women and men. The Strata Ultimate set is more for the mid-handicappers out there. Callaway has been trying to design better golf clubs with more technology-driven aspects, and the Strata Ultimate is pretty damn good.
The Ultimate golf club set includes a titanium drive, 3-wood, 4 and 5 hybrids, 6-9 short irons, with a PW, SW, and putter.
The driver and 3 wood have graphite shafts that are ladies flex. The two hybrids replace the long irons, they are better to hit and will help your long iron game.
Irons are stainless steel and look great. The pitching wedge (PW) and sand wedge (SW) have deeper grooves to give you more spin and a better feel on all your shots.
The putter has a nicely milled face that provides you with better distance control on all your putts.
Callaway Strata Ultimate golf clubs are set in a wonderfully crafted stand golf bag made with Callaway's eye for quality and durability. It will give you pleasure to see them waiting for you to take them out for a round of golf. This bag is super lightweight and has the back strap so you can carry it. This set also comes with 4 headcovers for the driver, 3 wood, and hybrids.
Callaway has taken big strides to keep up with the competition by using their new technology and designs, they've done a great job with this set. The Callaway Strata Ultimate golf club set is pretty fantastic.
Cobra Golf Women's XL Speed Golf Clubs
Cobra has made a great set of golf clubs for senior women. The XL Speed is designed to help the senior women with medium swing speed or for beginners just starting out learning to play golf. Cobra has used their most advanced technology in these golf clubs. This will help senior women or beginners feel more competitive out on the course.
The XL Speed has thirteen clubs in this set. A driver at 12.5 degrees, 3 wood, 5 wood, and a 7 wood, 5 hybrid, 6-SW irons, and a putter. The golf bag is a cart bag with several zipped pockets and an insulated pocket that acts like a cooler to keep your drinks cold!!!
Cobra has an oversized clubhead on the driver which helps to make it easier to hit. The fairway and hybrids have Cobras fast forged face inserts that are more forgiving, with a higher launch, and more stopping power. Irons are perimeter weighted with a low profile. Cobras putter is a mallet-style that gives you a lot more feel and control. All of the clubs have lighter shafts that help with the slower swing speeds you may have. Also, Cobra has made the grips softer.
Ladies this is an amazing set of golf clubs, Cobra F-Max Superlite Golf Clubs are way more expensive than any of the other sets I have talked about, but the feel, comfort, excitement, and pleasure from the performance of these golf clubs is worth their weight in gold.
TaylorMade Ladies Fashion Visor
Majek Ladies Hybrid Set
Thousands of senior ladies have told golf manufacturers that the biggest weak point in their game is hitting their irons. Well, Majek has listened and they have the golf clubs that you've been looking for.
With the help from UCLA engineers, Majek has developed an all-hybrid set of golf clubs for the senior women. This set will replace your hard to hit irons 3-PW (Pitching Wedge). This hybrid set is going to improve your game and allow you to have more fun on the golf course.
Majek hybrid golf clubs have higher loft angles and lady flex graphite shafts. The deep cavity back design allows for more pinpoint accuracy on all your mishits. The oversized clubheads will increase your control, distance, and accuracy with less effort and added forgiveness on every shot.
The Majek Ladies Hybrid Golf Clubs will instantly give you more confidence and improve your game the very first time you use them. These golf clubs can be used by any golfer no matter what your expertise is. These are really game-changing golf clubs for the senior women, a must-try.
Love The Golf Clubs You Have?
Well, if you have a set of golf clubs that you cherish, but you notice that you're not hitting them as far, or you feel that you're not in control of your shots, there is another way to boost your game.
You can head down to any pro shop or sporting goods store and have your clubs RE-SHAFTED!!! Yes, keep the clubs you love and have been playing with for years, and just have a pro put senior ladies flex shafts on the club heads.
This may be cheaper than dishing out a lot of money for a whole new set. Also, you will need to get used to the way the clubs feel and play especially after having your golf clubs re-shafted.
Conclusion
Well, ladies there it is. We found some senior women's beginner golf clubs, some mid-handicappers, and probably the top two golf clubs sets for senior women. Now it is up to you to try them out and make your own decision. I promise there is a perfect golf club set for you, one that fits you and your needs out on the golf course.
LEAVE YOUR QUESTIONS AND COMMENTS BELOW